I enjoy Korean food too much to eat anything else whenever I am in Seoul. I was shopping at Comme des Garcons when it started to rain, and I was trapped in the beautiful six-storey glass-steel building without an umbrella. So I decided to have lunch at the Rose Bakery located in the CdG building, and wait for the shower to pass.
I have been to one of the Rose Bakery outlets in Tokyo – the one at Kichijoji – for coffee, but did not try the food. Opened by a French-British couple, Rose Bakery sells food made with organic produce, and has outlets in Tokyo, Seoul and Paris.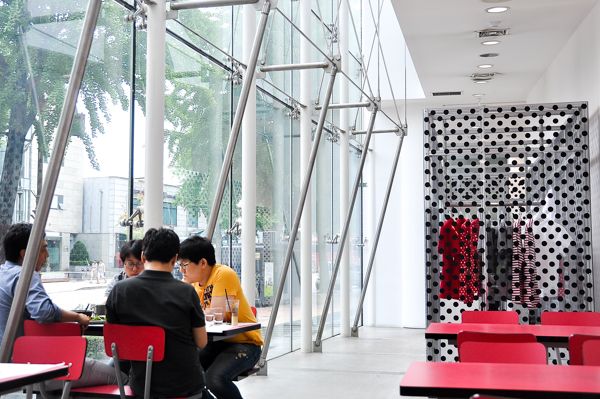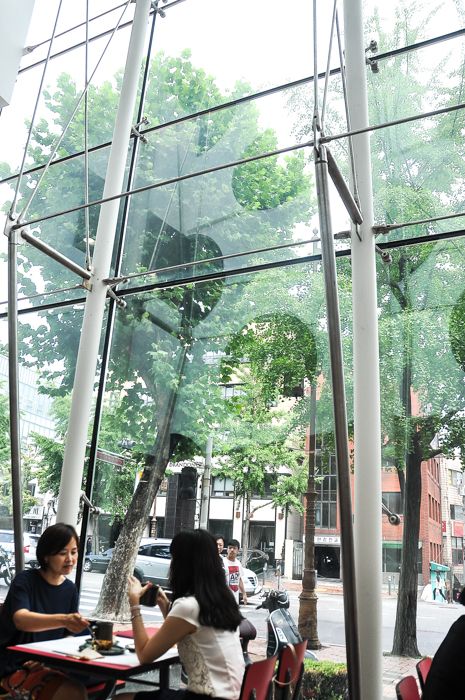 I love the bright, airy and spacious feel of the cafe. I gazed out of the windows, imagining how beautiful the street scene would be come autumn, when those gorgeous gingko trees lining the streets turn from green to yellow.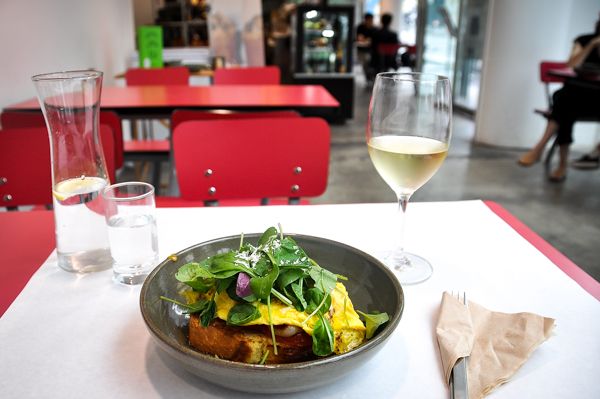 I ordered an omelette sandwich and a glass of wine. I was not expecting the food to be any good. I was also a little put out at having to eat one less Korean meal on this trip. I told myself to just eat a little of the sandwich, finish up the wine and when the rain stops, I would go and get myself a tasty Korean meal somewhere else.
I was SO WRONG. This is the best sandwich I have ever eaten (and I am not someone who enjoys eating sandwiches on a regular basis). I have no idea what they did with the ingredients to make the sandwich so damn tasty. After all, it was just an omelette with a slice of bacon on toasted brioche. Perhaps it has to do with the fact that they use good quality, organic produce in their food. (Though I suspect that brioche makes most sandwiches taste fantastic.) I gobbled all of it down so quickly, I contemplated ordering another one. In the interest of my waistline, I did not.
Rose Bakery is a great place to head to if you are in the vicinity to visit the Leeum Museum, or when you have had enough of Korean food and want something simple to eat. I am definitely going to make a repeat visit to the Rose Bakery the next time that I am in the city, or in Tokyo.
Rose Bakery
Address:
739-1, Hannam-dong, Yongsan-gu, Seoul (서울 용산구 한남동 739-1 1층)
Directions:
Take subway line 6 to Hangangjin Station. Leave the subway station by Exit #1 and walk straight ahead, until you arrive at the Comme des Garcons building.
Seoul: Rose Organic Bakery in Hannam-dong