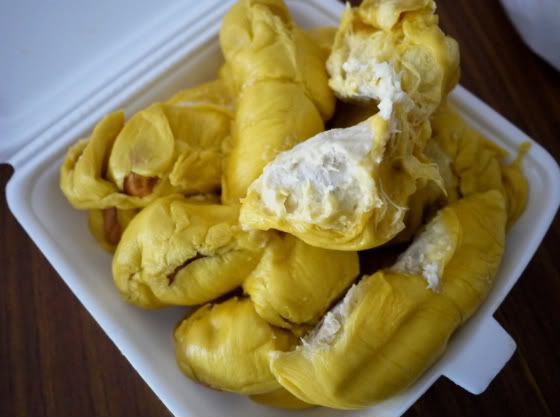 One of the most satisfactory things to do in this world is biting into the bitter and creamy flesh of durian. I can't even to describe the high I get from the taste of durian.  How is it possible for anyone to hate durian…?
私は ドリアンが 大好きす。とても 美味しいです。毎日 ドリアンを 食べたいです。
I have abstained from eating durians for two years because my aging body have difficulty digesting durians. Those good old days when I could overdose on durians without feeling any discomfort.  All gain and no pain!
Yesterday, I went and bought 8.5kg of Mao Shan Wang, gave two-thirds to family and devoured nearly the remaining one-third on my own.  It was absolutely orgasmic!  It's payback time after 12 hours.  I FEEL HORRIBLY SICK. 
I blame it all on my Japanese teacher. As part of an oral exercise, she went around the class asking whether we liked durians. Then a friend posted a photo of his latest durian escapade on Facebook and all hell broke loose.
Like they say, abstinence from anything that makes one FEEL GOOD is bad for health in the long run.  I figured that endorphins must go some way in balancing out any ill-effects of over-indulging right?
Okay.  I must not abstain from durians.  I must not abstain from alcohol.  I must not abstain from ogling at Korean boys.