I have been to Dstllry thrice in the last couple of months, and have been meaning to blog about the place for a while. The name is kind of weird, like where are the vowels?
Photos of Dstllry have been making its rounds on my Facebook feed and Instagram feed for a while. But I couldn't quite figure out what sort of F&B place Dstllry was. The only impression that I had of the place from these photos are 'why so dark…?' Looks hip and edgy, and I wondered if I could see what I was eating. It was only when a friend raved about their bespoke cocktails and value-for-money omakase that I was compelled to check it out one Saturday afternoon.
Located at 21 Media Circle, Portsdown Road, Dstllry sounds like a perfect place to escape from the crowds on a Saturday afternoon. I had a bit of difficulty locating the restaurant, which is housed in a scruffy-looking building called Infinite Studios, in the middle-of-nowhere, near Portsdown Road. One thing for sure, the building has plenty of parking space.
Walking into the restaurant for the first time, I was impressed by the cool vibe and uncluttered feel of the space, largely due to the high ceilings and a dark interior. Unlike most restaurants who feel a need to pack as many tables as possible into the space, the owner of Dstllry did not try to maximize the seating space. Just a simple U-shape bar counter and a narrow ledge lining each of the two walls. I did not feel boxed in by the close proximity of diners huddling around the counter.
I like the funky industrial lamps lighting up the space, and the sound system was excellent. Wholly-appropriate background music that didn't bounce back from the walls, creating an echoey and noisy effect. Not surprising, given the owner's music background.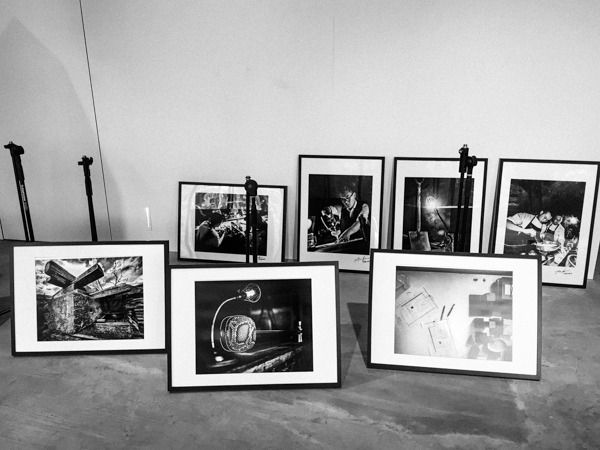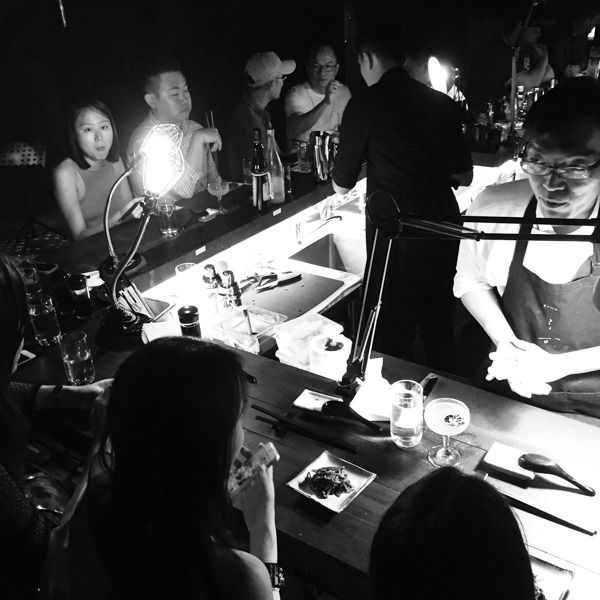 Dstllry has a fairly small lunch menu. A couple of donburis and no cocktails. During dinner, they serve a 10-course omakase for $100, or you can order ala-carte from the menu. From what I gather, the omakase menu is different every month, and changes are announced on their Facebook page.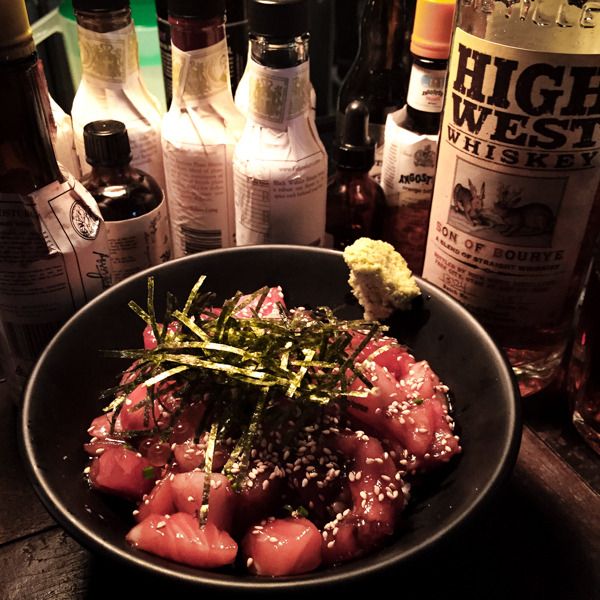 Their bara-chirashi is quite popular. At $18 a bowl, it came with a generous pile of salmon and tuna, dressed in a yummy sauce, topped with ikura and dried seaweed, on top of a warm bowl of rice. Delicious. Love how the pearly globules of roe pops in my mouth. I like that they give fresh wasabi, and not the stuff that comes out of a tube.
I have also tried their bara-ramen which, as the name suggests, is raw fish in a bowl of ramen, instead of rice. Interesting twist to the rice version. I cannot decide which version I like better, but I think the bara-ramen may have a slight edge over the bara-chirashi, simply because I like noodles and theirs have a nice bite.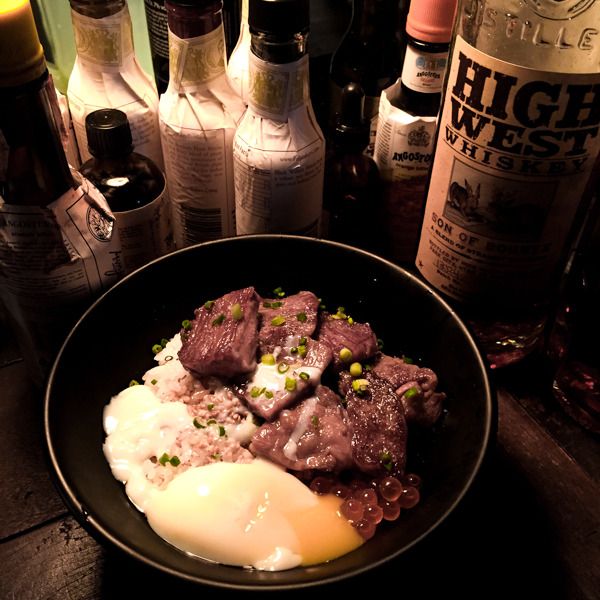 TBH tried the wagyu beef don (higher price point at $38) and thought it was quite good. Besides the rice bowls, we also tried some of their bar food – cockles and ika mentaiko – and they were great. All washed down with a number of excellent bespoke cocktails which seem pricey but are worth every penny if you are love cocktails.
Love these fresh and tasty cockles. May not yet be able to rival the ones at Putien and Two Chefs, but still very good, especially so when you can sip a cocktail while eating the shellfish.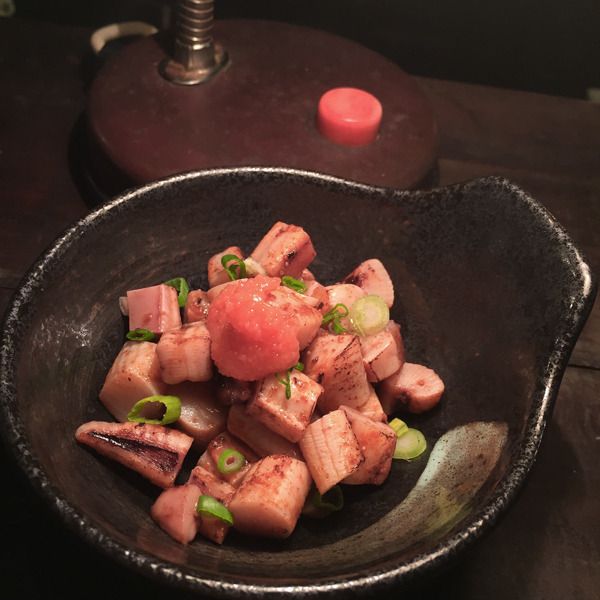 Grilled ika with some mentaiko. Good combination and the ika was grilled to perfection.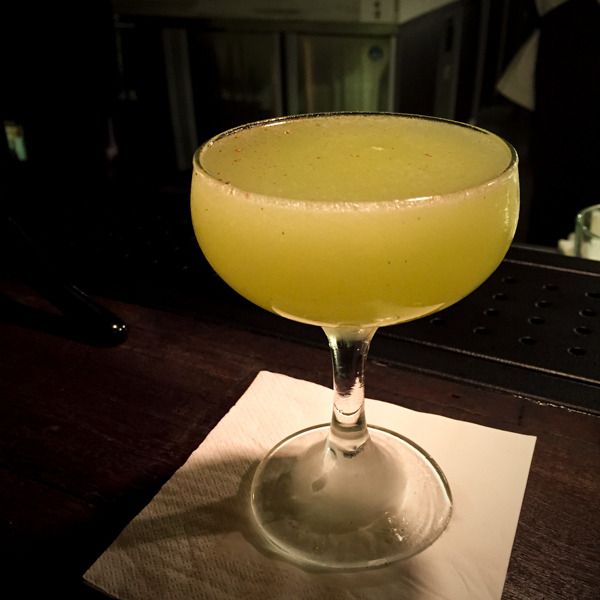 Beautiful yuzu-laced with gin concoction. I have tried quite a number of cocktails served up by their bartender, but my favorite is still their G&T, which is one of the best that I have ever had. Unlike the watered-down versions served in many places, this one had plenty of gin. Be sure to order that if you are a G&T fan.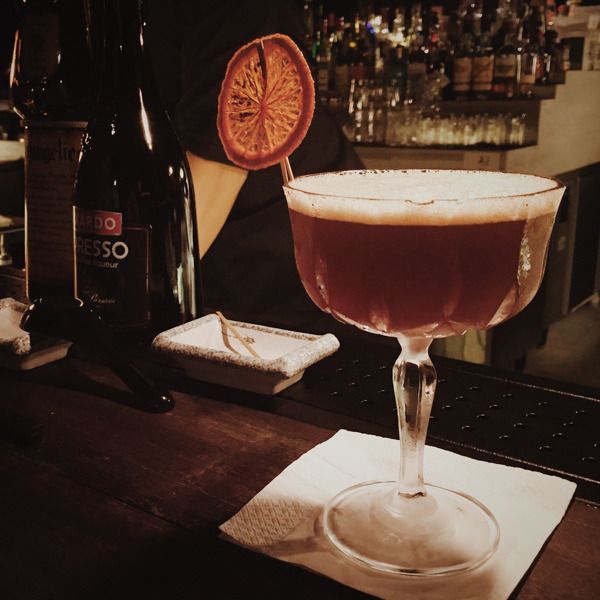 Another exotic concoction made with beer and coffee.
We also tried their omakase. I like that their chefs give their own creative spin to some classic Japanese dishes using local ingredients. It has been some time since we ate the omakase, and I cannot remember what we ate now, but each dish was quite interesting. Just do not order the omakase and expect the standard to be what you would get in a traditional Japanese restaurant.
We will probably drop by some time soon to try their July omakase menu – some items on the menu sound very good.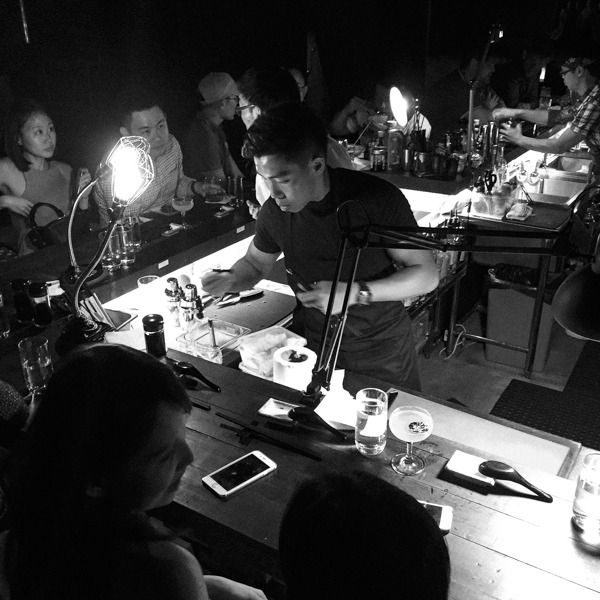 Dstllry is really a fun place to chill out either with your other half, or with a group of friends, without having to dress up and watch your table manners. It is comfortable, easy and unpretentious, and I like the communal dining concept that you get at the bar counter. You get to see the chefs up close and personal, prepping the food that they are going to be serving you.
I am hoping to see more of such interesting indie dining concepts sprouting up in Singapore.
Dstllry At 21 Media Circle