I made this Vietnamese lemongrass chicken dish on Christmas Day, using a recipe created by my friend C. I am sure she would not mind me posting her recipe here.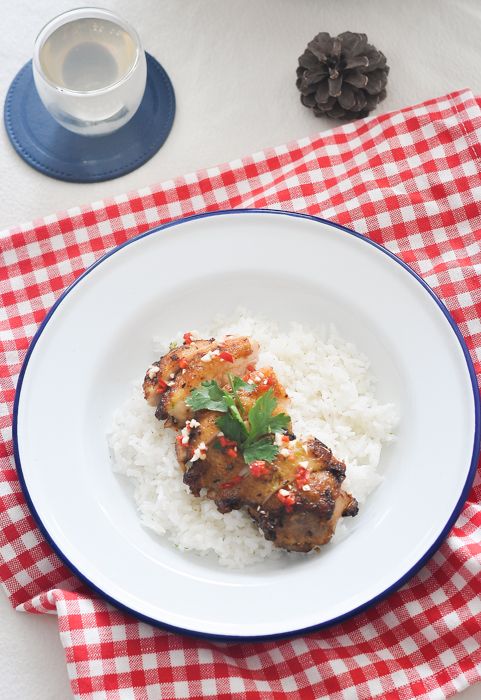 As she promised, it was a delicious and super easy dish to make. It does not involve any complicated ingredients or cooking techniques. I marinated the meat overnight, pan-fried it in my Happycall Pan and served it with steamed rice and a cold home-made lemongrass drink. I know that I am going to see this chicken dish on my dinner table very frequently.
Vietnamese Lemongrass Chicken
Ingredients
Marinade
2 chicken Marylands (with the thigh bone removed)
3 stalks of lemongrass
5 cloves of garlic
1 chili (optional)
1/4 tsp pepper
2 tsps sugar
1 tbsp fish sauce
1 tbsp light soy sauce
1 tbsp sesame oil
1 tbsp peanut oil
Dipping sauce
1 tbsp minced garlic
1/2 minced chili (optional)
2 tbsps fish sauce
Juice of 1 large lime
1 tsp sugar
Instructions
Mince lemongrass, garlic and chilli (optional).
Mix with pepper, sugar, fish sauce, light soy sauce, sesame oil and peanut oil.
Rub meat with the mixture and let stand for up to 2 hours, or overnight.
In the meantime, make a dipping sauce with the rest of the ingredients.
Heat a grill pan, oil it and let sit over the flame until it gets really hot. Sear the meat on both sides till golden brown. Let the chicken rest on the a plate for 5 minutes when done. Pour juices over rice and eat with dipping sauce.
Notes
As an alternative to chicken, one can use skirt steak. Cut the beef into strips and stir-fry it, or "bake" the beef in a hot oven till cooked.
Vietnamese Lemongrass Chicken