One of the main drivers for us ending our Japan trip in Tokyo was to eat teppanyaki at Hakushu and tempura at Tenmasa. We enjoyed ourselves so much at both places on our last trip several years ago, and a repeat visit has been greatly anticipated for quite a while.
So we dropped by Hakushu on a Monday night for dinner. We got terribly lost making our way there because we exited at the Shibuya subway station instead of the JR Shibuya station. We must have walked one round in Shibuya, climbing up and down the bridges, in order to identify the correct area where Hakushu is located at. All that walking and climbing gave us a good appetite.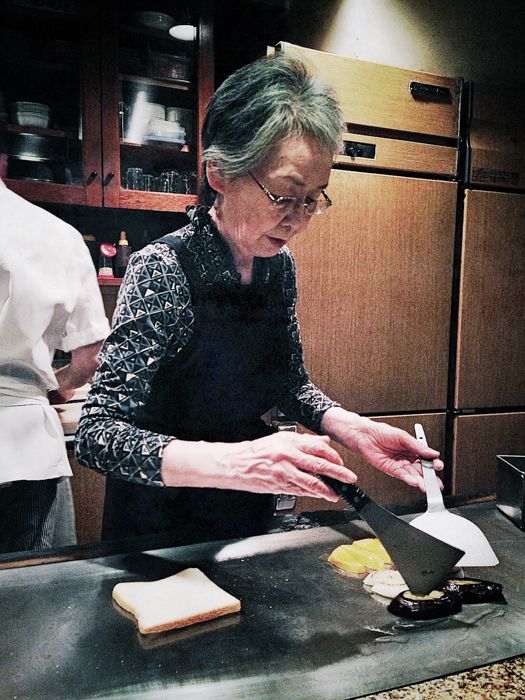 Monday night was a quiet night for the restaurant. When we arrived we were the second group of customers and the final group customers for the rest of the evening. Which meant that we had the whole restaurant to ourselves, and the chefs had plenty of time to to chat with us. Casual, friendly owners and great food.
It was good to see that since our last visit in 2011, both mother and son are hale-and-hearty, and still running the family business together. They have also hired an assistant – this chap was such good fun to talk to. It is quite amazing how they could understand my pathetic Japanese sufficiently for us to carry on a conversation for nearly 3 hours. Not bad indeed.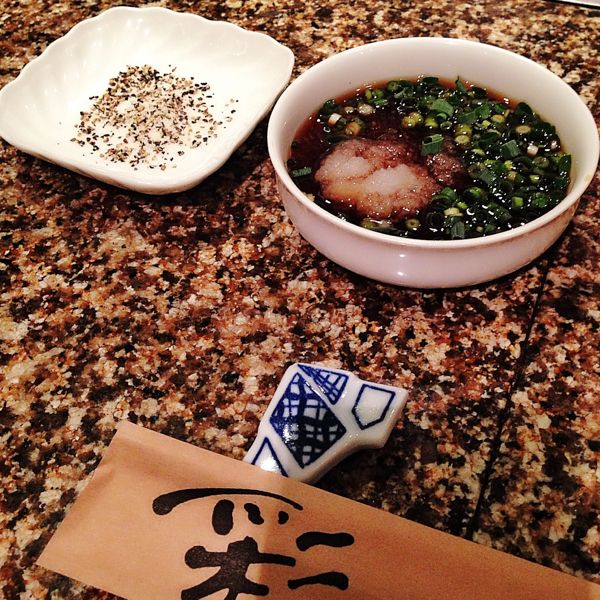 Dips for our food – salt with pepper and some kind of ponzu sauce. I could never understand what it is when the chefs announce the dips to me. I can only catch the word 'shio' which is salt. I love eating the grated daikon that is served in Japanese restaurants. Unlike our local radishes that have a slight bitter edge to it, the Japanese daikon is so sweet, I eat piles of it whenever I am in Japan. Low in calories and full of vitamins, not a bad thing to be stuffing your face with.
If you love beef, especially the melt-in-your-mouth, beautifully marbled sort, then you must order their Kobe beef. We tried the Kobe beef during our last visit to Hakushu and was blown away by how good the beef was. Kobe beef is so sinfully rich and absolutely delicious; it is akin to drinking melted butter. On this trip, we decided to skip the beef (since we ate way too much Hida beef in Takayama) and headed for the seafood, which was lighter on the palate.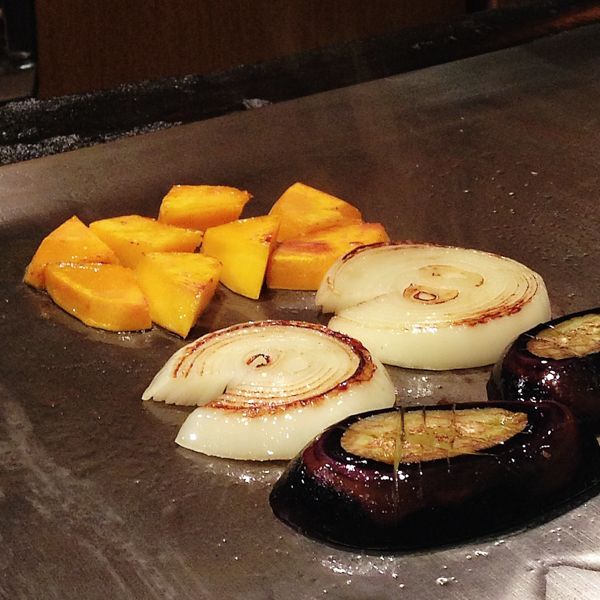 We always start off with grilled vegetables. Nasu, tamanegi, kabocha. Good, I still remember some Japanese vocabulary.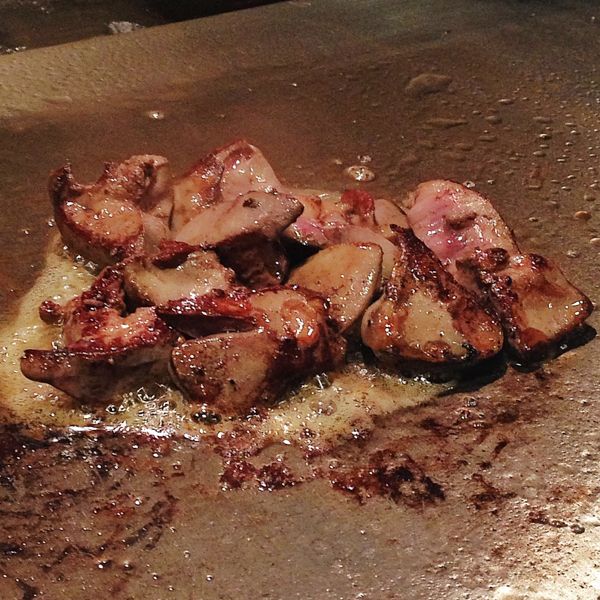 Up next is GYU-TAN! Pan-fried in some butter. Awfully good.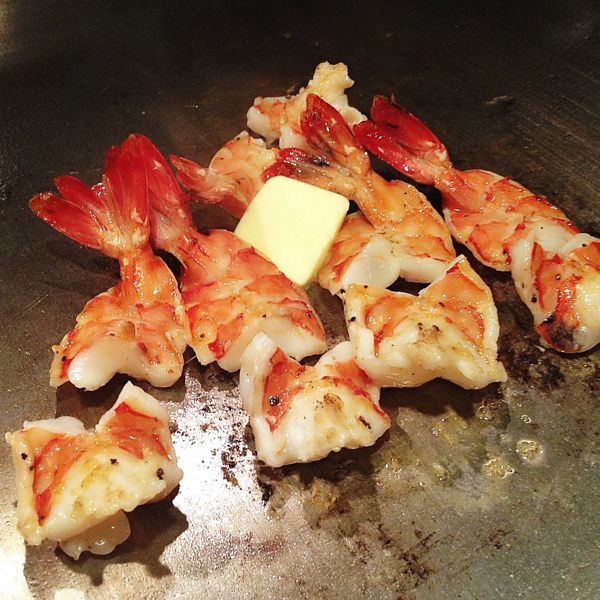 Prawns. And more butter.
This is our absolute favorite. We could not resist ordering a second helping.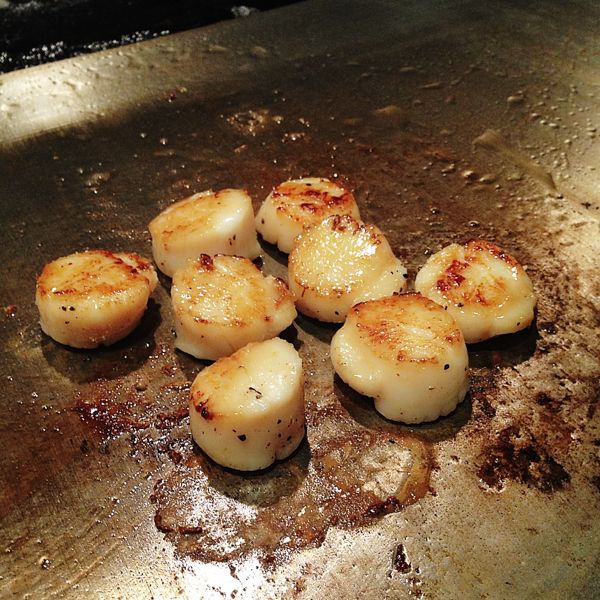 Scallops. Doused in butter. Seriously, with the amount of butter the went into cooking seafood, it may have been no different from eating a slice of fatty Kobe beef.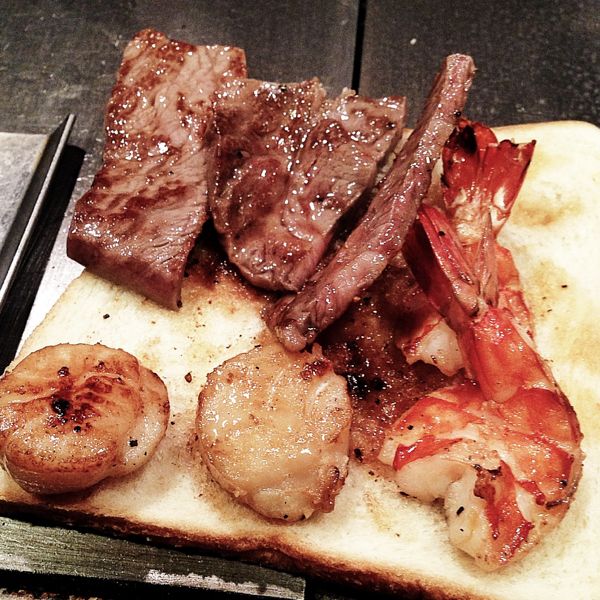 This is how Hakushu serves their food – on a slice of white sandwich bread which soaks up all the tasty juices of the food. At the end of the meal, your slice of bread is cut into smaller pieces, tossed back onto the teppanyaki pan, pan-fried with a dollop of butter and served as a finishing course. Just like how the Japanese usually finish up a meal with rice, pickles and miso soup. The pan-fried bread was utterly delicious.
Washed everything down with mugs of draft Japanese beef. Asahi, I think.
We had a great time eating and chatting with the owners, exchanging notes about our respective cultures and countries. They are impressed by the Singapore story – how a small island state became prosperous and economically strong. Looking forward to our next visit to Hakushu, hopefully in March next year.
Directions to Hakushu can be found here. The easiest way to the restaurant is to take the Yamanote Line and alight at the JR Shibuya station. Best not to take the subway line to Shibuya, unless you do not mind getting lost and wandering around very crowded Shibuya.
Hakushu has a Facebook page too, but in Japanese.
Tokyo: Teppanyaki At Hakushu (白秋) In Shibuya