If you are a big fan of oyakodon and you happen to be in Tokyo, you should give Tamahide a try. I read that this famous restaurant in Ningyocho, founded in 1760 (or thereabouts), is the birthplace of oyakodon. What makes them special is the chicken that they use – a type of chicken that is unique to Japan, With such a reputation, one should not be surprised to hear that this Ningyocho eatery attracts a snaking queue every day.
I love eating oyakodon, the simple combination of rice, simmered chicken buried under runny eggs and onions, is comfort food to me. So Tamahide is a place that was at the top of my Tokyo food list during this trip. Tamahide opens at 11.30am and I made sure that we arrived at 10.30am, one full hour before the eatery open for lunch, so that we would be right at the front of the queue.
We were so early and had nothing much to do, so we popped into a cafe just next door for coffee. Wow – this cafe is another place that came straight out of a Murakami book. It has a 1960s setting, with red vinyl chairs, a record player and filled with old Japanese men smoking pipes. I couldn't resist ordering a plate of toast to go with my coffee – not a wise move because I should be saving stomach space for oyakodon. I am so glad that I ordered the best toast that I have eaten. I finished one plate and ordered another. It was utterly delicious. I should rave about this in another post, since this post is about oyakodon.
Back to oyakodon. Tamahide is a traditional Japanese eatery, exuding an old world charm. You remove your shoes when you enter the restaurant. You are served by gentle ladies wearing kimonos. You place your orders on the first floor and are led to a tatami room on the second floor. You sit at the table Japanese-style, i.e., on the floor and try to fold your legs as comfortably as you possibly can.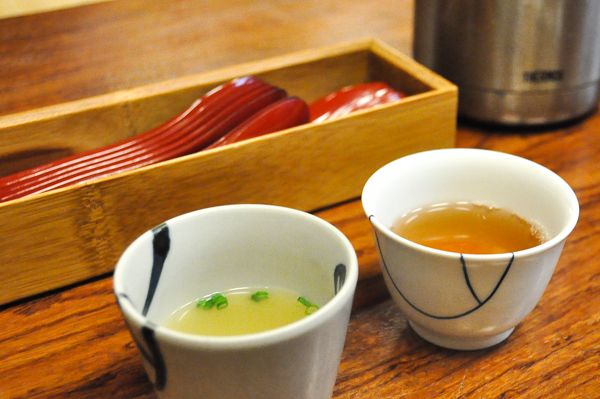 We ordered the most basic oyakodon set. They serve you a cup of tea and a cup of clear chicken (essence) soup. The chicken soup as delicious.
Next comes the oyakodon, served in a beautiful lacquer bowl.
Remove the lid from the bowl, and this is what you get. I am not sure if the crazy-good toast did something to my appetite, but I didn't enjoy the oyakodon as much as I expected to. I am not sure what it is about the taste of the dish that didn't whet my appetite, but I just felt let down by it. Disappointed with the taste (or lack thereof), or disappointed with the fact that I didn't enjoy it? I don't know. It just didn't give me the 'warm and wonderful comfort food' feeling that I would usually get, eating a piping hot bowl of oyakodon.
We left the eatery, and saw this queue outside Tamahide.
Tamahide 玉ひで
1-17-10 Nihonbashi Ningyocho, Chuo-ku Tokyo, Japan
(Exit A2 Ningyocho Station)
Tel: +81 3 3668 7651
Lunch 11.30am-1pm
Dinner 5pm-10pm (4pm-9pm on weekends & PH)
Tokyo: Tamahide Oyakodon in Ningyocho