I do not eat much bread in my diet but whenever I am in Japan, I find myself eating bread almost every day. We usually go to a kissaten close to our hotel (you can usually find one along the streets or in a train station)  for our Japanese-toast-slathered-with-butter fix in the morning.
I like how the Japanese slice their white bread thick so I get a nice deep bite of soft, fluffy and fragrant bread in each mouthful.  The texture of the Japanese bread is completely different from what we get in a loaf of Gardenia or Sunshine bread.  The bread baked by our old-school bakeries come close, but still not quite.
I first came across Hamanoya Parlor in my Instagram feed.  The Instagram photo was a uber delicious-looking egg omelette sandwich served at Hamanoya.  According to TimeOut, Hamanoya is an old-school Japanese cafe located at the basement of the Shin-Yurakucho building that serves a selection of sandwiches, and they are particularly good with egg sandwiches.  Off we went to go pay them a visit, especially when Yurakucho is just one stop away from our hotel in Shimbashi.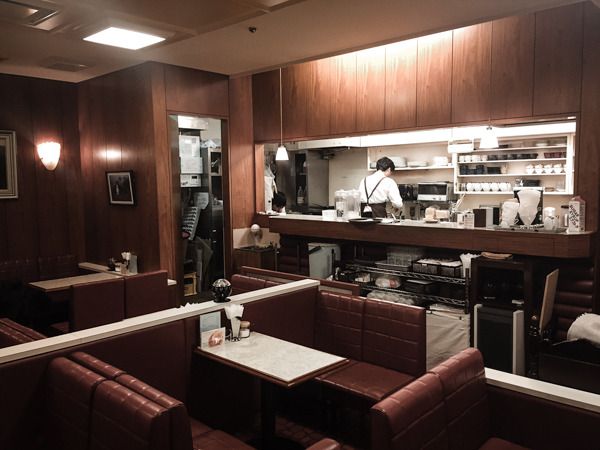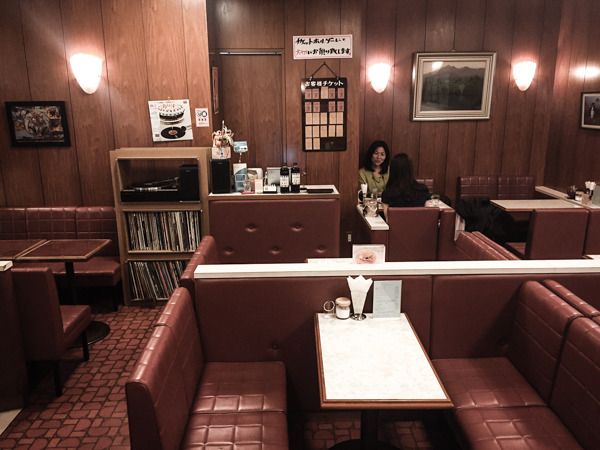 The Shin-Yurakucho building is quite easy to find.  It is just across the street from BIC Camera which you cannot miss coming out of the Yurakucho train station.  Take the escalator down to the basement of the building and you will see Hamanoya Parlor on your right.
Walking into Hamanoya Parlour takes you back to the 1980s, with its red vinyl seats and brown paneled walls.  They do not have an English menu which meant that I had to slowly make out the Katakana characters on the Japanese menu.  Luckily, an English-speaking Japanese lady seated at the next table heard me asking for an English menu and offered to help us with our orders.  She explained to us what was on the menu and also offered her recommendations (she is a regular at Hamanoya) as to what we should try.
I have always wanted to eat a Japanese fruit sandwich and when she told us that Hamanoya makes one of the best fruit sandwiches in town, I had to order it.  She suggested the ham sandwiches and if we still had space in our stomachs, to order the egg sandwiches too.  Also, Hamanoya charges a little bit more money if you ask for bread to be toasted.
So we started off with a platter of ham sandwiches and fruit sandwiches.  The ham was good but the fruit sandwiches were absolutely divine.  Mikan and cubes of sweet pear in a delicious (and not too sweet) thick whipped cream filling sandwiched between two slices of soft fluffy bread.  I was glad that they gave me mikan and pear instead of strawberries 'cos I do not like strawberries, not even the very sweet Japanese ones.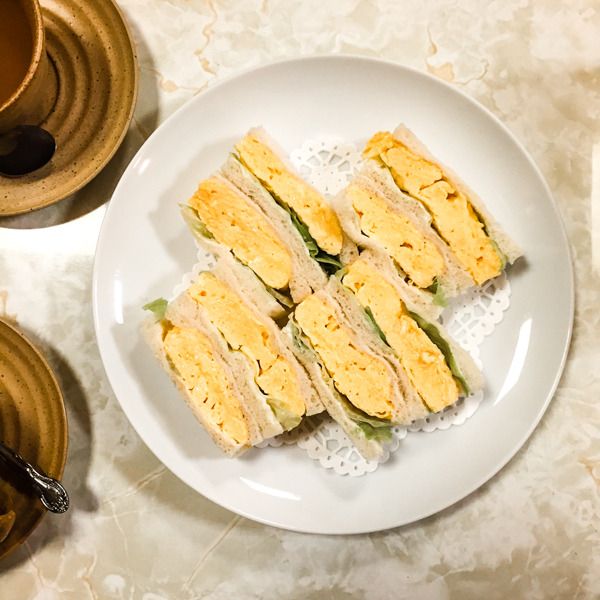 After devouring most of the fruit sandwiches in super-quick time, I was quite full but I had to order the egg omelette sandwiches.  Well, they were the reason why we went to Hamanoya.   The egg sandwiches were excellent.  Thick, fluffy and still warm, having come straight out of the kitchen.  I would have enjoyed the egg sandwiches even more had I eaten them on an empty stomach.  As you can see from the photo, the egg sandwiches are thick and very filling.
Hamanoya Parlor
Address:  Basement 1F, Shin-Yurakucho Building, 1-12-1 Yurakucho, Chiyoda-Ku, Tokyo
Directions: Take the train to the Yurakucho station and leave the station by exit #D2. You will see BIC Camera in front of you. The Shin-Yurakucho building is opposite BIC Camera.
Tokyo: Sandwiches At Hamanoya Parlor In Yurakucho