The husband loves oden. So do I.
It is simple comfort food, best eaten in cold weather (for me) with a mug of beer.  Usually, we eat oden in an izakaya in Japan.  This time, I wanted to visit a traditional oden restaurant.  After some research, I picked Otafuku in Asakusa because of its long-standing history and also because it is located in Asakusa which makes it a convenient dinner stop after visiting the Sensoji temple.
Cutting through the food alleys at the back of Sensoji, Otafuku is about a 10-minute walk away.  We took quite a bit longer because Google Maps led us on a merry walk through a labyrinth of food alleys and a shopping arcade, backtracking many times before we found the restaurant.  Well, Google Maps navigated us to the back of Otafuku which was why we could not find it until we figured out what was wrong and made our way around a street to get to the front entrance.
Otafuku is located in a traditional Japanese house with a pretty garden out at the front.  We did not make a dinner reservation and were lucky that they had a table for us.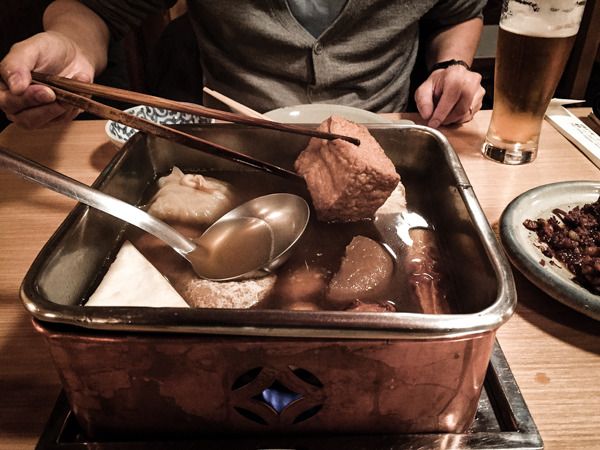 At Otafuku, you get to pick what you want to eat from the menu (and they have an English menu).  Each table gets a large oden pot set over a fire, so your oden is always nice and warm throughout your meal.  We ordered piles of oden and then spotted a blackboard with more food items written in Japanese.  Good thing that I could make out gyu suji nikomi (stewed beef tendon) on the board 'cos that is one of our favorite things to eat.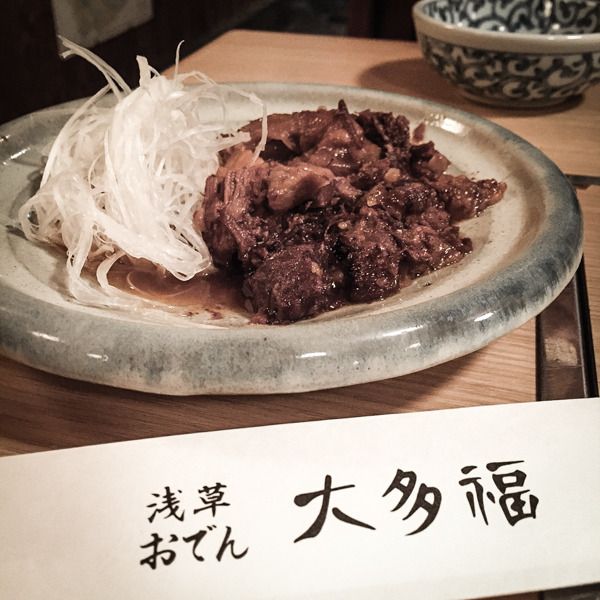 The oden was fabulous.  We loved all the beancurd things that we picked and above all, the very tasty broth flavored with lots of mustard.  The stewed beef tendon was very good too. So good that we polished off two plates.  The meat was soft, flavorful, melt-in-your-mouth tender.
We had such a simple yet satisfying (and relatively inexpensive) meal that I would definitely want to go back to Otafuku again on our next visit to Tokyo.
From Otafuku, it was a 20 minute stroll back to the Asakusa subway station.  We were glad to be able to walk-off the huge dinner that we had just consumed.
Since we had to walk pass Sensoji on our way back to the subway station, we decided to visit the temple.  We have never gone there at night, only during the day, and were amazed at how beautiful the temple looked at night.  The crowds had thinned, and many of the shops along the Nakamise-dori were preparing to wind down for the day.  It is a much nicer place to visit at night than during the day when the place is packed to the brim with tourists.
Despite a belly full of oden, I could not resist scarfing down a deep-fried mandu filled with azuki purchased from one of the shops at Nakamise-dori.  It was the perfect sweet ending to a wonderful day out in Tokyo.
Otafuku
Address: Taito-ku, Senzoku 1-16-2
Tel: 03-3871-2521
Tokyo: Otafuku Oden In Asakusa