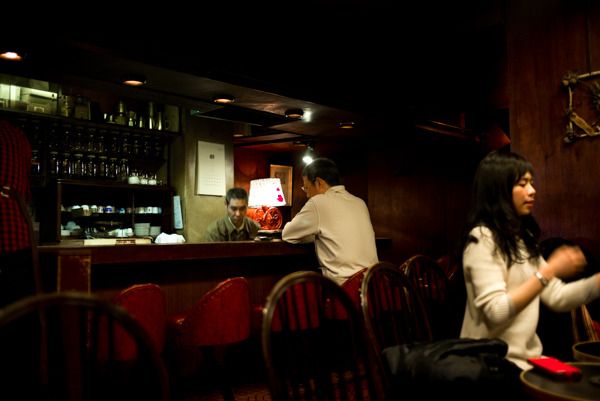 We are not fans of hand-drip coffee, but we learnt that Cafe De L'Ambre's hand-drip coffee is excellent. Not just the coffee, the ambience is lovely too. The interior is 1980s – brown wood, dark, smoky. You sit at a bar counter and watch them make each cup of coffee by hand, filtered through a cotton bag. It is an interesting place to while away a couple of hours in the afternoon.
Cafe De L'Ambre has been around for over 50 years and serves only coffee. No juice, beer, milk, or any type of food. Coffee is not cheap but in my view, worth the splurge if you enjoy drinking coffee.
This is the coffee version of sitting at a cocktail bar, watching the bartender conjure up delicious cocktails. The barista makes every cup by hand, slowly pouring hot water into the filter bag and letting the coffee glide into a small copper pot, which he then heats up for a quick minute before pouring it into a cup and serving it to the customer. The filter bag is a smaller and shorter version of the ones that our local coffeeshops use to make coffee.
A delicious cup of hot hand-drip coffee that has well-balanced flavors. I usually find hand-drip coffee too acidic for my liking, but not L'Ambre's.
We also tried their cold coffee which is very good. The coffee goes into a cocktail mixer filled with ice, then poured into a cocktail glass. The coffee is good hot, but even better chilled.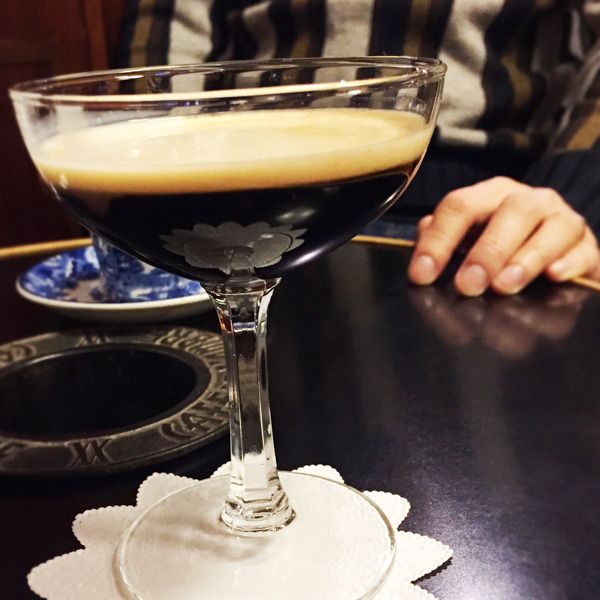 How much coffee can one drink in one sitting? At least 3! We felt as though we were in a cocktail bar, tasting various alcoholic concoctions, and being wow-ed one drink after another.
After a hot coffee, a chilled coffee, we decided to try something different. We ordered the Blanc et Noir "Queen Amber" – sweet cold coffee with a layer of milk floating above it. You don't mix the milk and coffee but just sip it as it is – sweetness followed by a slight bitterness. Simple and good, and absolutely addictive. My husband and I had two glasses each.
It is a good thing that coffee, even copious amounts of it, has no effect on our ability to sleep at night. 🙂 Satiated from coffee, we went back to the hotel for an afternoon nap.
Cafe De L'Ambre
Address: Ginza 8-10-15; 81-3-3571-1551 (銀座8-10-15 Chūō, 東京都 〒104-0061)
Opening Hours: 12pm to 7pm
Tokyo: Cafe De L'Ambre In Ginza