If I had to recommend one place in Japan that one should visit, it will be Shirakawago. A UNESCO heritage site, the scenery here is stunning, with architecture that is quite unlike anything else that I have seen in Japan. Shirakawago is a village containing traditional wooden houses with sloping thatched roofs known as gassho-zukuri. The houses are surrounded by rice fields and a river runs through it. The picturesque view of these traditional farmhouses against the backdrop of these Japanese mountains is something that I couldn't get enough of. I have been wanting to visit this place for ages, and am so glad that I finally did.
It is fairly easy to get to Shirakawago from Hida-Takayama, where we stayed for 3 nights in a ryokan called Oyado Koto No Yume. We took a bus from the Takayama bus station (right next to the train station) and arrived in Shirakawago in slightly less than an hour.
We alighted from the bus and saw this breathtaking scenery in front of us (okay, ignore the orange cone). The place was a little misty and foggy, which added to the magical feel of the surroundings. It was good to breathe good, crisp, clean air.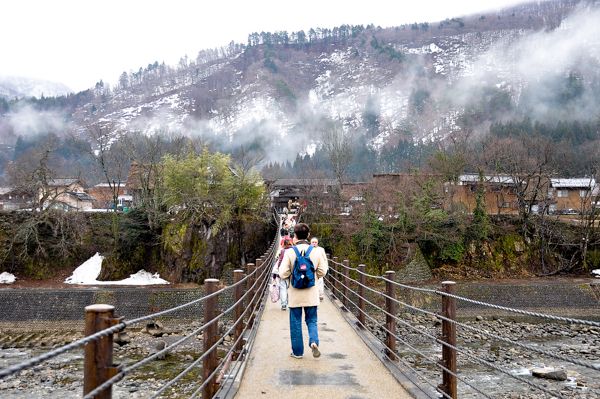 We crossed this long bridge to get to the village, stopping frequently to take photos of the mountains in the background.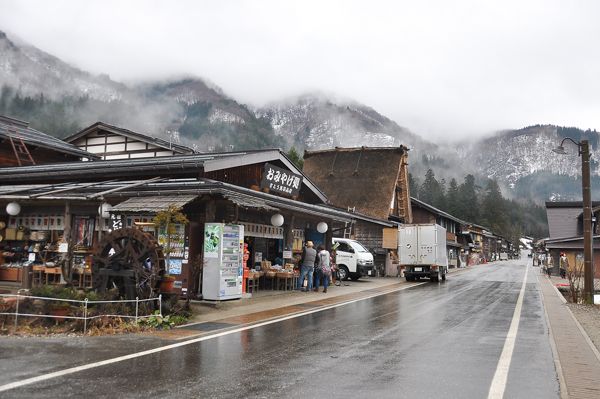 Wet and gloomy skies. Empty roads. Loved it.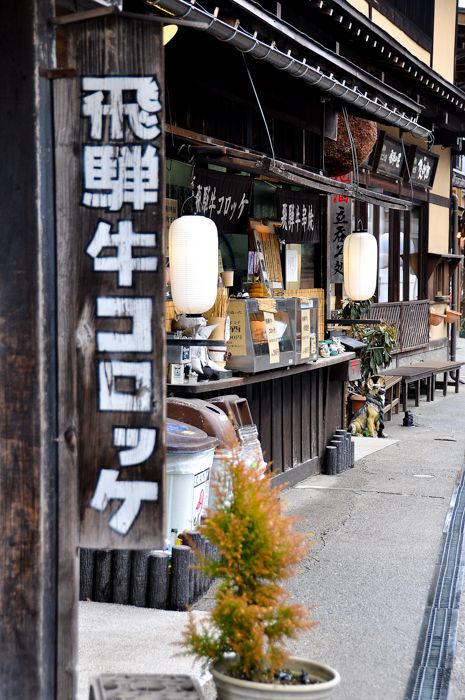 I can read the words – "Hida Beef Croquettes". Oooh, I love Japanese croquettes.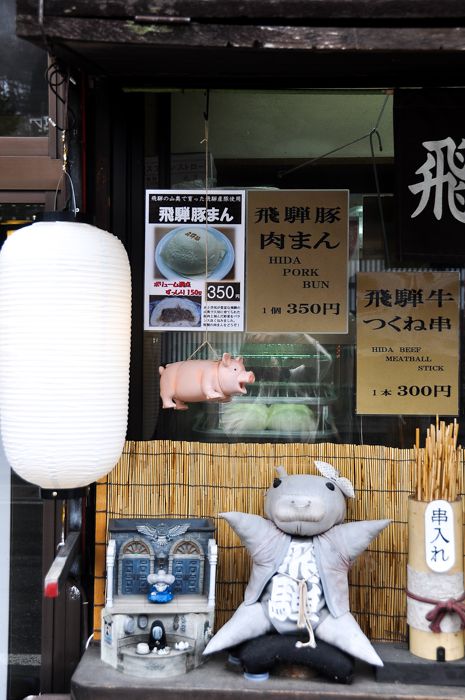 Even though I was still stuffed from the huge breakfast that I ate at the ryokan, I could not resist buying a Hida pork bun in addition to the beef croquette. I was curious to see how different it was from our local pork buns. I know that Hida-Takayama is famous for Hida beef (which is damn good, a close second to Kobe beef), but I have not heard of Hida pork.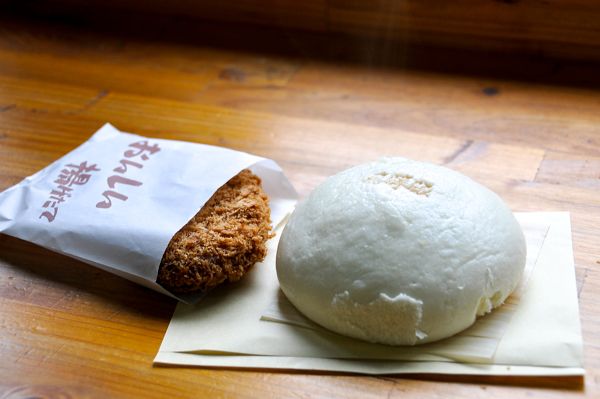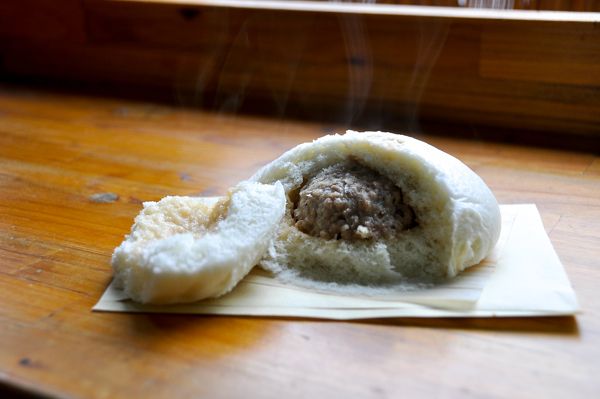 I thought the Hida pork bun was good, but it was fairly similar to our local pork buns. The beef croquettes were insanely good (forgive me for the hyperbole). Crispy on the outside, and the filling was moist and packed with so much flavor. We finished eating the croquette that I bought, and immediately dashed off to buy another. It was too good to share! If I hadn't eaten the pork bun, I would have ordered a third croquette. I was tempted to stuff my mouth with as many as possible, but I did not want to run the risk of throwing up at some point in time.
Beautiful Japanese Alps in the background. If we had arrived in Shirakawago one week earlier, it would still be snowing and the entire place would have been blanketed in a a sheet of white snow. As it is, all we saw were dirty blocks of snow on the ground.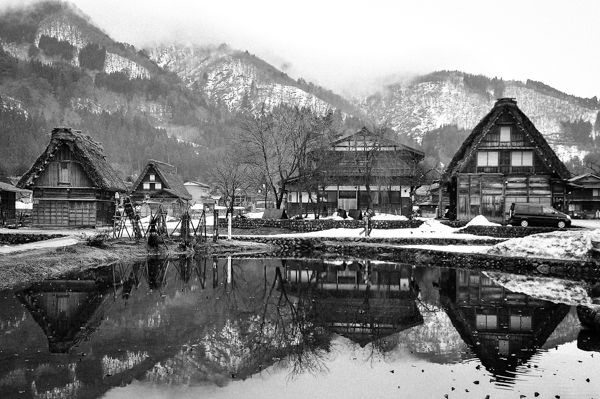 Couldn't resist processing the photo and turn it into a black-and-white piece.
This is my favorite photograph of Shirakawago. After snapping what could possibly be a hundred photos on the camera, in and around this spot. I am surprised at how clear this photo turned out given the foggy weather when it was taken.
I think this is the main street in Shirakawago, with a number of shops lining the road.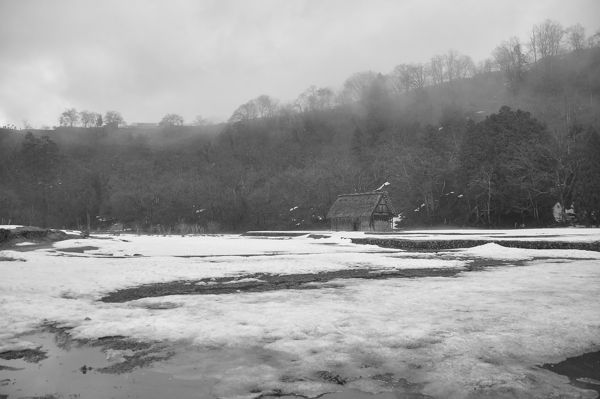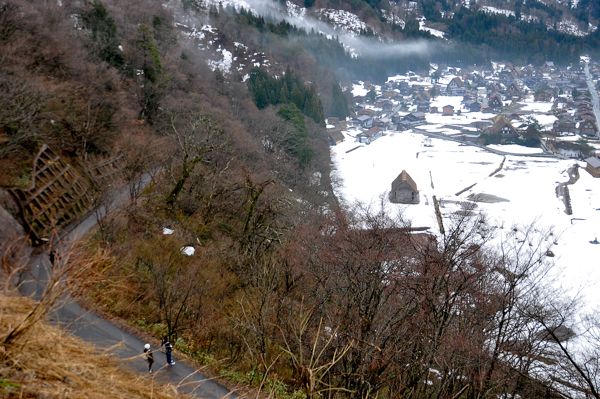 Took a little hike up a windy road to get a panoramic view of the village. Beautiful, beautiful view from the top.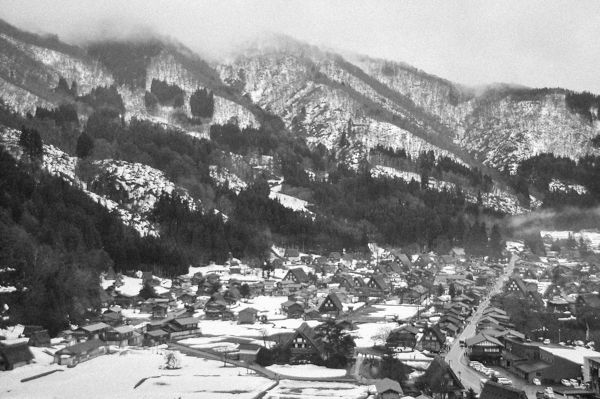 I would like to see this view during winter, when the rooftops are enveloped in a fleet of snow. But I doubt I can brave the cold.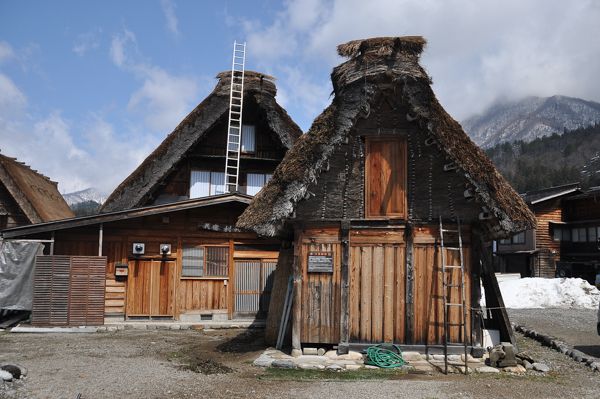 As we hiked back down to the village, the sun appeared and the skies cleared. We got to see what the village and farmhouses would look like in spring, against a clear blue sky and fluffy white clouds. Just as picturesque.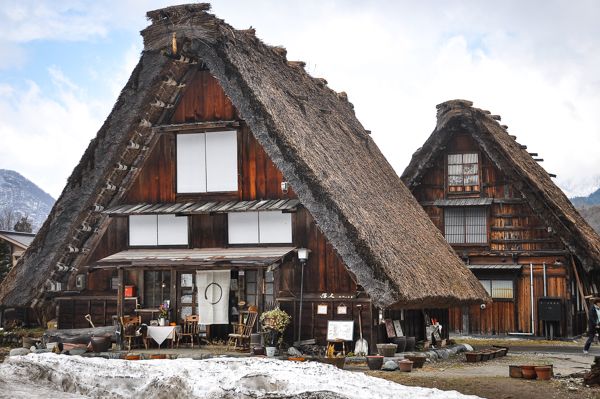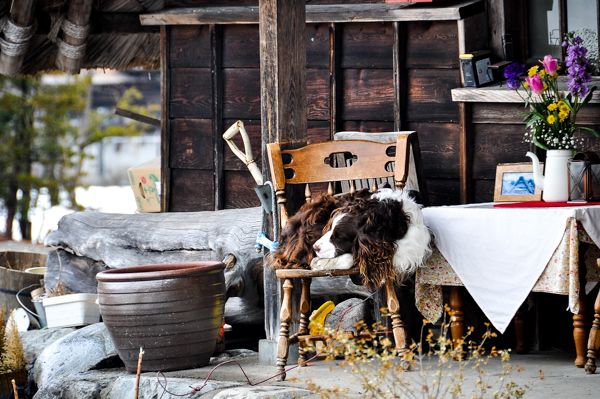 What an adorable dog owned by the people behind this cafe. We did not linger on for a drink, as we wanted to catch the next bus back to Takayama. I needed a good, long soak in the onsen.