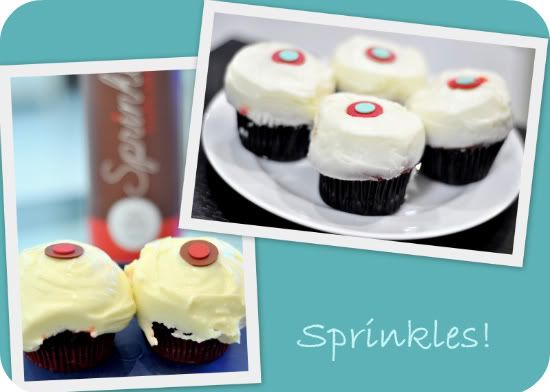 Last year, a good friend brought back half-a-dozen Red Velvet cupcakes (light chocolate cupcakes with cream cheese frosting) from Sprinkles in San Francisco (Palo Alto, to be exact) for me to try.
Lucky me!
Otherwise, it may be a very long time coming before I have the chance to eat these cupcakes as Sprinkles does not yet have outlets in this part of the world – which is where I usually travel to (well, I see Tokyo listed as an upcoming location for another outlet on their website…but I don't visit Tokyo that frequently).
The cupcakes looked a wee bit bruised, having been on the plane for hours and man-handled by customs at the airport.
I couldn't wait till I reached home to sink my teeth into the cupcakes so I ate one as I was driving home, scattering cake crumbs in the car, with TBH squawking away.
The cupcakes were terribly good. Moist, dense and very rich.
My friend also bought the Red Velvet cupcake mix and made her own cupcakes at home. The home-made ones were decadently YUMMY too.
They were my dinner tonight.
Sprinkles – From Clarence Ville