Argh. I can barely survive till November.  Work is a bitch and I am trying to keep my head above water. Thinking about food always helps to ease the pain a little.
Lately, we have been visiting Culina's restaurant pretty often because we like the food and the casual dining ambience.  Not much of a service to speak of but because the food is good, we don't mind the lack so much.
Unless I am not feeling very hungry, I almost always order the ocean trout.  I like how they cook the trout, which is lightly grilled and served with vegetables.  And because I am not a food blogger, I am unable to give a soporific analysis of why I like the trout.
By the way, I am sure my friends and husband will rejoice when they hear this – I have stopped taking photos of food in local restaurants. But hawker centre food doesn't count.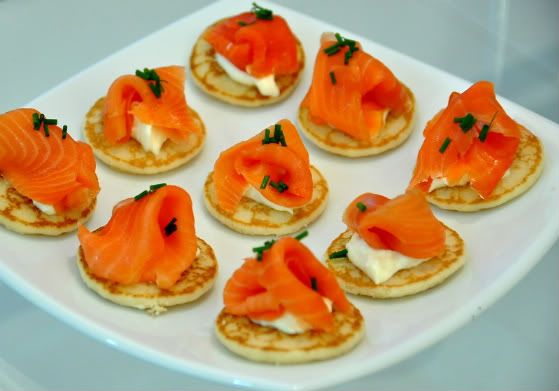 An appetiser that TBH and I enjoy sharing at Culina's is the smoked trout with sour cream, chives and blinis.  I like trout alot.
During my last visit to Culina's, I discovered that this appetiser has been rotated out of the menu!  And the only way for us to continue eating this is for me to make it myself. 
So I did.  But using crème fraiche instead of sour cream. Good thing that this is quite easy to put together.