Having discovered the eclectic Churro 101 in Hongdae which serves up some darn good churros, I wanted to see if I could find other churros bars in Seoul. I did some research and the one name that kept popping up on various blogs is One Chu, located in one of the back lanes of Garosugil. Thanks to the excellent directions on this blog, I managed to locate One Chu without difficulty on one hot summer afternoon.
One Chu has an edgy, masculine, industrial-looking vibe. Reminds me a little of Kaixo.
Sweltering from the heat, I was dying to plonk myself in a cool and quiet spot with a chilled drink in my hand. I was really glad not to see crowds thronging the place during the lunch hour and I could have some place quiet to hang out for a while.
Since I was still stuffed from my late breakfast of Korean juk, I ordered the small portion of churros which comes in 4 pieces and a small saucer of hot chocolate.
One Chu's menu had quite a few interesting options, featuring both savoury and sweet options. I was quite curious about the garlic churro, the savory dips and the lemon curd dip. I waffled for a while but I decided to stick with my choice of plain churros and chocolate. I should have ordered the cinnamon sugar churros, but that option escaped me until much later.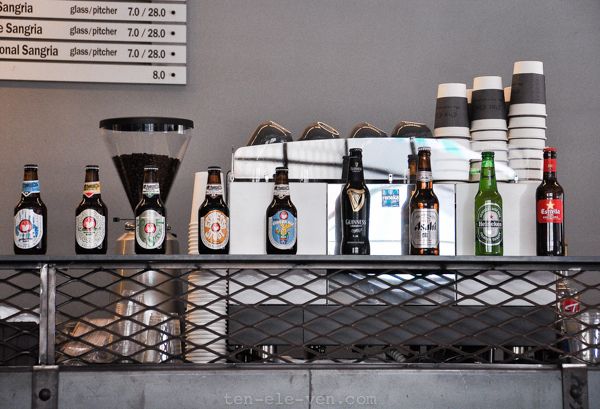 Besides the usual beverage options of coffee, hot chocolate and lemonade, they also sell sangria and an interesting range of Japanese Hitachino Nest beers. I was intrigued by the rock salt coffee featured on the menu and was sooooo tempted to try it. But I needed something cold to quench my thirst – in the end, a cold Japanese ale won the battle over a glass of sangria.
The plain churros were great, but I felt that they were too crispy, the batter lacked flavour and overall, lacked oomph. By comparison, I like the texture and flavour of the churros at Churro 101 much more. (I visited Churro 101 the following day to re-confirm this preference.) Perhaps, I should have gone with my heart and ordered a second portion of churros, the cinnamon sugar churros, to see how these fared. I will definitely make a return visit to try the other churro options. And also, try the rock salt coffee.
Oh well. The beer was lovely and I really enjoyed it. I am glad to find out from a friend that Medi-ya carries this range of beers and I promptly headed to the supermarket after my trip to buy a few bottles.
Apart from the Hitachino beers, I stumbled on another find two doors away from One Chu! Organic milk soft serve ice cream that was super delicious….boy, was I glad that I didn't succumb to the temptation to eat another portion of churros, 'cos I went and pigged out on ice cream. Soft serve ice cream will have to be in the next post…!
Directions to One Chu:
(Directions below are from flyingonajetplane)
Take subway to Sinsa Station (Seoul subway line 3) and take exit 8 and go straight until you seeMissha cosmetics shop on the left side. Turn left and walk on the right hand side until you reachPeople to People clothing store in the corner. Turn right to the small lane where A Mug for Rabbit Cafeor Youk Shim Won Gallery is. After about 50m, you will find a 3-intersections with Merial Music Academy. Turn left and you will be able to see One Chu on your right.
xoxoxo
Seoul: One Chu, Churros Bar In Garosugil