So glad to be typing away in this blog again.  Something went wrong at the back-end of my blog on Christmas Eve and it has taken me over a month to get it up and running again, including moving the website to a new web-host.
Seoul has got some really interesting markets where stall-holders sell cooked food, fresh food, dry goods, kitchenware, clothes, fabrics and all sorts of stuff for the home (like bedding and curtains).  The market that I frequent whenever I am in Seoul is the Namdaemun market.  I like to visit the stationery shops to pick up crafting materials and haberdasheries for ribbons, buttons, fabrics and what-not.  If I feel sufficiently hungry (or greedy), I would visit one of the cramped and narrow food alleys in Namdaemum for a meal of kimchi jigae or a bowl of kalguksu.
I have been meaning to visit Gwangjang market – possibly one of the most famous food markets with tourists due to its regular appearances in Korean reality shows – and finally got there this time.  Gwangjang Market is quite near to where I stay in Myeongdong – a couple of stops on the subway or a nice stroll along the Cheongyecheon stream.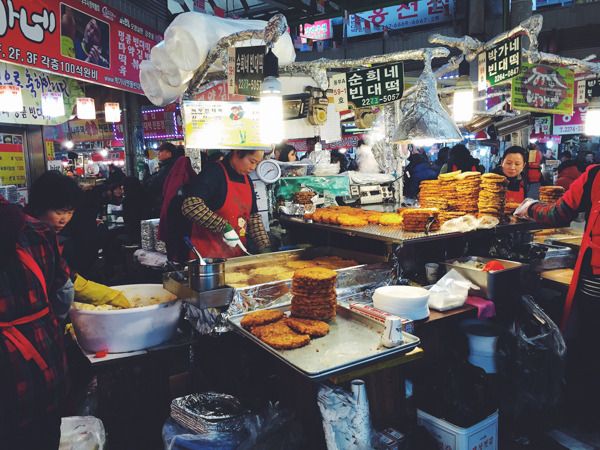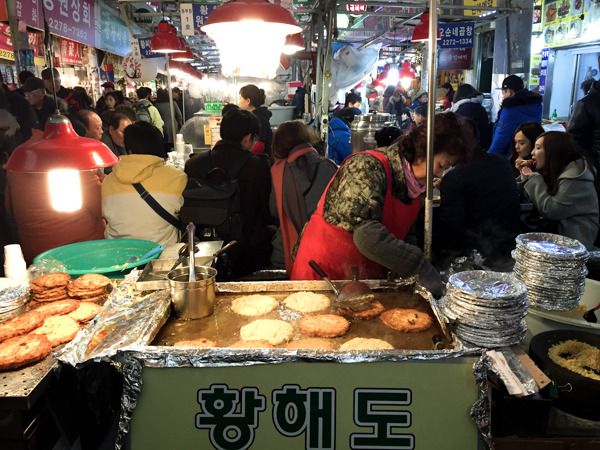 I arrived at the market around 3.30pm and well, I do not know what I was expecting, but I certainly did not expect to see the market packed with people at that hour of the day.  The non-food section of the market was fairly quiet but the food section was so crowded I had to literally push my way through.  There was no space for me to compose photographs using my iPhone, and I just snapped whatever photos I could without even looking at the iPhone screen.  Glad that I managed to capture several decent-looking photos with random snapping and people pushing me from behind.
The food section of the market was separated into different alleys specializing specific types of food. Such as bindaetteok which I learnt is Korean mung bean pancakes containing spring onions, kimchi, ground pork. I like eating jeon but have never tried bindaetteok, only because the sight of pancakes frying in oil makes me less inclined to eat it.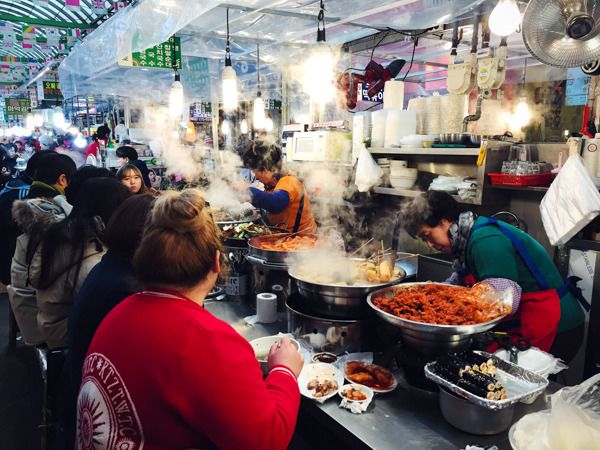 Most of the food stalls in Gwangjang have a small counter where you can sit down and eat your food, provided you can find a seat and do not mind being squashed between strangers.  The above stall sells street food such as gimbap, odaeng, tteokbokki and soondae.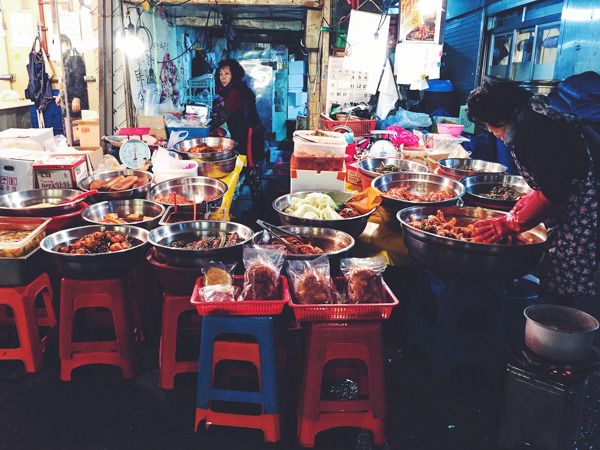 Piles of kimchi.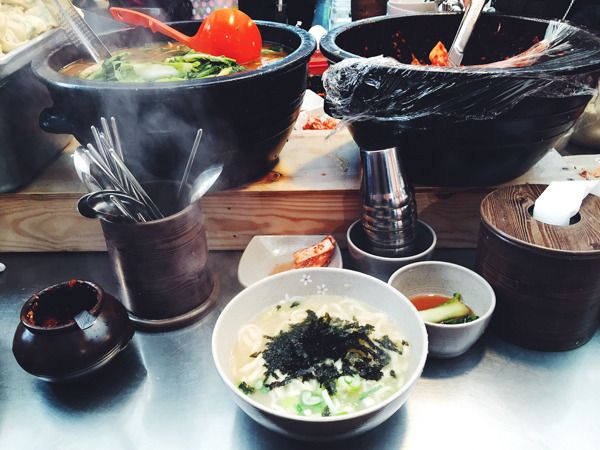 I was not particularly hungry but I just wanted to eat S-O-M-E-T-H-I-N-G, to further soak in the experience of being in the market.  I walked past alley after alley but could not find a seat anywhere, until I got to a kalguksu stall where I spotted a lady vacating their seats.  I maneuvered myself  with some difficulty into the narrow space between two ahjummas, and ordered a bowl of kalguksu.  I love Korean hand-cut noodles, especially the ones cooked in a clam or seafood broth, and I eat them with lots of kimchi.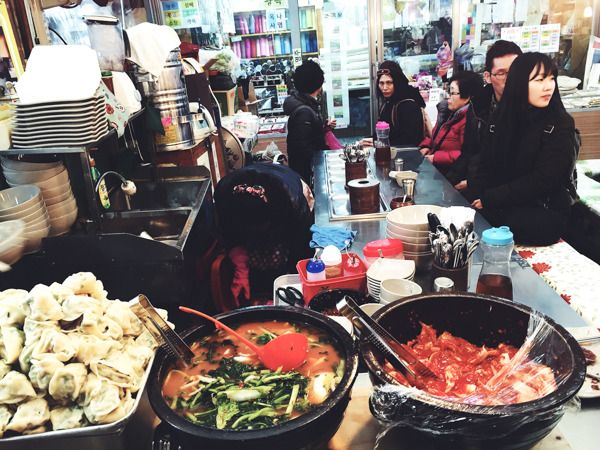 Look at that pile of mandu.  I was very tempted to order some to go with my bowl of kalguksu but having eaten like four meals during the course of the day, it was not a good idea to consume more food.  I was so stuffed from eating the kalguksu, I had to take a 30-min walk back to the hotel, which would have been a lovely thing to do if not for the fact that I was getting a bad case of indigestion from over-eating.  I nearly wanted to buy a pin from a shop in the market to pierce my finger to relieve the discomfort, like how you see Koreans do it in Korean dramas.