The first thing we did after checking into our hotel at Myeongdong – the Ibis Myeongdong – was to look for a place to have dinner. For a long time, we have been experiencing massive cravings for good Korean food and drew up a mental list of must-eats during this trip.
There were sooooooo many things that we wanted to eat, but decided on gamjatang at Onedang, an eatery located somewhere in Myeongdong near the KEB Plaza (on the side of Myeongdong that is closer to the Eujiro 1-ga subway station or Chonggyecheon stream). A steaming pot of spicy soup was exactly what we needed after stepping off the plane and to warm us up in the cold weather.
We visted this eatery during our last trip in 2010 and thought it was good enough to merit a repeat visit.
Back to gamjatang, a spicy pork bone and potato stew.
We ordered the smallest-sized portion, which came in a big pot containing four thick pieces of pork bone with meat so flavourful and tender that chunks of it were falling off the bone, and loads of mountain vegetables and Korean vermicelli that I love. The spicy broth was as wonderful as we remember it to be, except that it was a bit too salty and we felt immensely thirsty after the meal.
I had some soju with my dinner too, and that probably added to the feeling of thirst.
A pot of gamjatang, before mixing and cooking the ingredients. I love the perilla leaves that are added to the stew because they lend a lovely flavour to the dish.
After mixing and cooking all the ingredients into the spicy broth.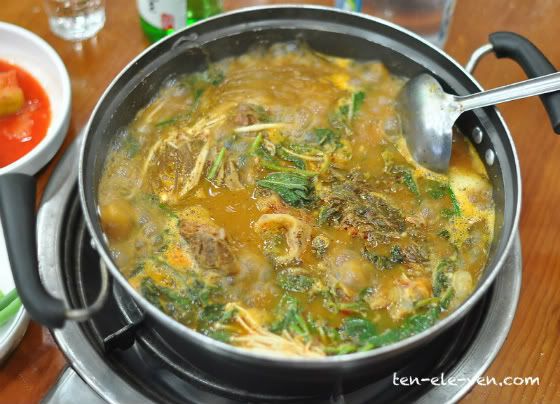 As the broth boils down, it starts to thicken and you can add rice or noodles to finish off the meal. We were too stuffed and gave this a miss.
Looking at these picture make me want another pot of gamjatang right now.
Shopfront of Onedang. I forgot to mention that this eatery is open 24 hours. I really should get myself a map of Myeongdong and pencil in the locations of all the yummy eateries that we have visited in this shopping and eating belt.
Edit: The shop has moved away from this location. I have to find out where it has moved to!
Updated on 22 Jul 2014: Oh man, contrary to what I said before, this store has not moved away from its old location in Myeongdong. It just underwent some renovation, and is now back in business. I am soooooo happy! OneDang is directly opposite Hotel Skypark Myeongdong and Cafe Droptop (between Ediya Coffee and 7-11)
Seoul: Gamjatang At Onedang In Myeongdong