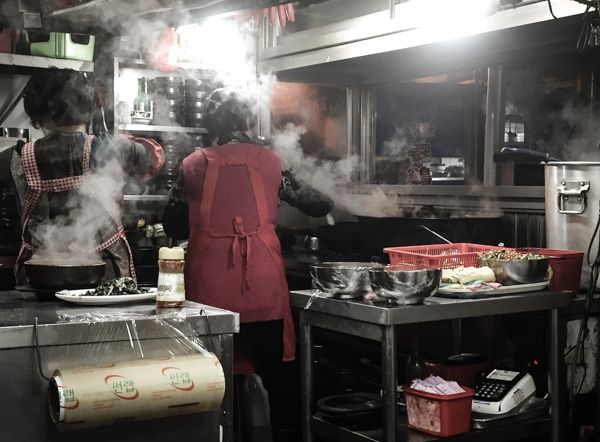 I have been wanting to visit some of Seoul's many food alleys – jokbal alley, gamjatang alley, nyaengmyeon alley, tteokbokki alley, kalguksu alley and many more.  As I was wandering around Namdaemum one cold wintry morning in early December last year, I had a craving for a bowl of spicy stew and decided to look for Namdaemun's galchi jorim alley. The alley was tucked away in one of the many buildings in the market and it took me a while to locate it.
Unfortunately, I had chosen to visit the alley on a Sunday morning when most of the eateries in the alley were closed.  I entered the only eatery that was opened and ordered galchi jorim.   I had not eaten this stew before and was looking forward to trying it.
Look at the Korean ahjummas working in the kitchen, and chatting loudly with the customers sitting at the tables.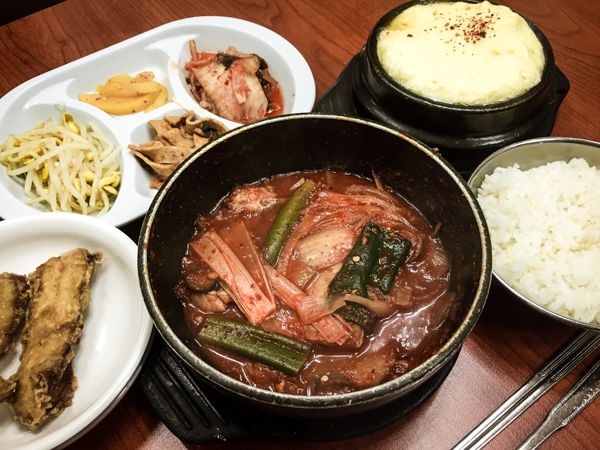 So much food for just 8,000 won.  There was no way I could put away all that food and when I tried to tell one of the Korean ahjummas that I do not need rice, she glared at me and refused to take it away.
The galchi jorim was delicious, but you have to eat the fish very very slowly and carefully, 'cos it has many tiny bones.  It is not for everyone – you really have to love eating braised fish and have the patience to remove the tiny bones to get to the flesh.  I loved the fried fish bones sidedish and steamed egg that came with my lunch.
Next food alley expedition would be to the gamjatang alley!
Seoul: Galchi Jorim (Spicy Hairtail Fish Stew) Alley In Namdaemum