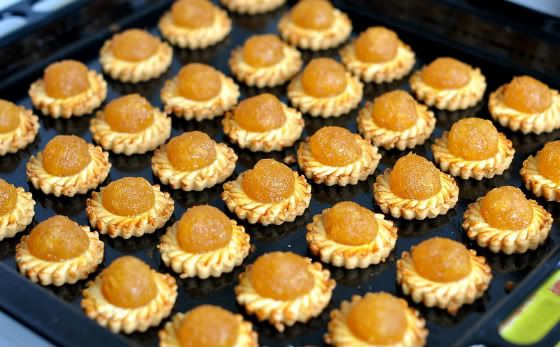 Fresh from the oven!
The tarts look quite pretty in the photo but the truth is that they didn't turn out very well this year.  I didn't cook the pineapple long enough, so the jam has too much syrup and it starts "leaking out" after I stack the tarts in a container.  Hoping to "dry out" the jam further, I left the tarts in the oven for a while longer than the recommended baking time but this resulted in the crust becoming a little burnt.
I am making only a small batch of tarts this year.  I don't have the energy to make more.  After spending one day kneading the dough and standing in the kitchen, my shoulders and back are aching so badly, I had difficulty getting out of bed the next morning!  I feel OLD.
I have plenty of fresh pineapple juice and egg-whites left behind from making pineapple tarts.  I am gonna try making souffles with the egg-whites!