My father lived in one of the walk-up apartments in this old estate with his family before he married my mother.
As a child, I spent nearly every weekend at my paternal granny's home in that estate. I disliked going there. The flat that my grandmother lived in was small, dark, noisy and crowded (with at least eight people living together). What traumatised me then was the existence of a spittoon that was placed at the entrance to the kitchen, and in full view of everyone sitting in the living room. My male cousins peed into the spittoon and my uncles spat into it! ARGHHH! That's how many people lived in those days but still…! I was so freaked out by the spittoon and it made me want to throw up everytime I saw it. I had to make a conscious effort NOT to look at the spittoon.
From the child's eyes, the rest of the estate was old, boring and surrounded by ugly low-rise buildings that did not come with elevators. There was nothing much for me to do, no interesting stationery shops or bookstores to visit, no playgrounds to hang out at. I was sulky every weekend.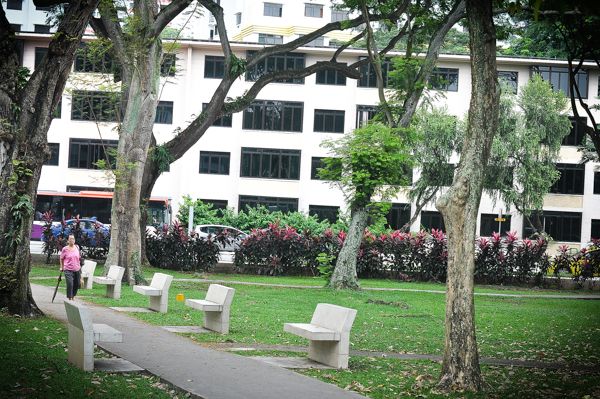 This is the block of flats that my dad and his family used to live in. This block and the surrounding blocks have been converted into service apartments managed by Global Residence. I wondered how the interior of these flats look like now, so I went to check out the website of Global Residence here. OMG.
Who would have thought that this old estate would receive a shot to life twenty decades later by a host of popular cafes and eateries that have set up shop in the neighbourhood. The pre-war buildings that I used to think were ugly are considered charming and are highly-prized by young couples and singles to be hip dwellings. Ha! I wouldn't mind owning one of these flats myself. There are plenty of open spaces with stone benches with shady trees for one to sit down at, watch people, listen to the birds and do nothing.
From being a place that I tried to avoid visiting, I have now been spending many of my weekday mornings there. I drop the husband off at work in the morning and head to Tiong Bahru to do some marketing at the wet market and have breakfast. Eating a bowl of dry, chili fishball noodles from this stall called Hu Ji (#02-44) is one of the things that I look forward to during my 'marketing mornings'. I discovered this stall, run by an elderly couple, recently. They give a generous portion for only S$2! With inflation and rising costs, it is almost impossible to find a good bowl of noodles for a mere S$2 now.
Tiong Bahru is a hobbyist photographer's paradise. One of the mornings when I was at Tiong Bahru, I arranged to meet a friend for coffee in one of the cafes. As I was early, I took a slow walk around several streets in the estate and snapped some photos with my Nikon. I did some post-processing of the photos and decided on a mixture of colour and black-and-white.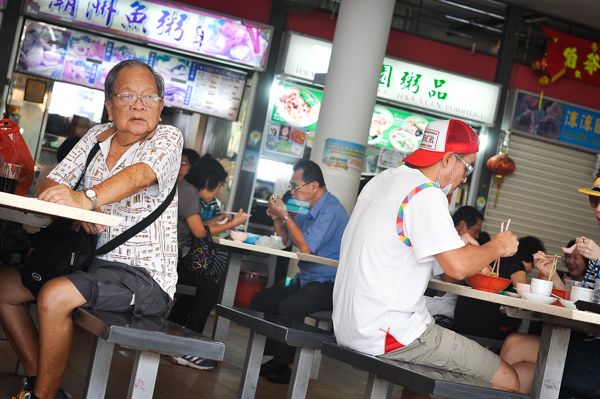 Well, a food centre is where the majority of Singaporeans eat their breakfast. It's not exactly the most healthy way of starting one's day, but it's convenient, affordable and delicious.
I have no idea how many people actually return their trays after finishing their meal, as it is not something that is intuitive in our society.
A Taoist altar by the roadside where anyone can just offer incense, and a donation. I consciously avoid going near these altars as my mom used to warn me about incurring the wrath of the Gods should I accidentally upset any of the offerings.
I like these curved staircase balconies. They don't make buildings with these anymore.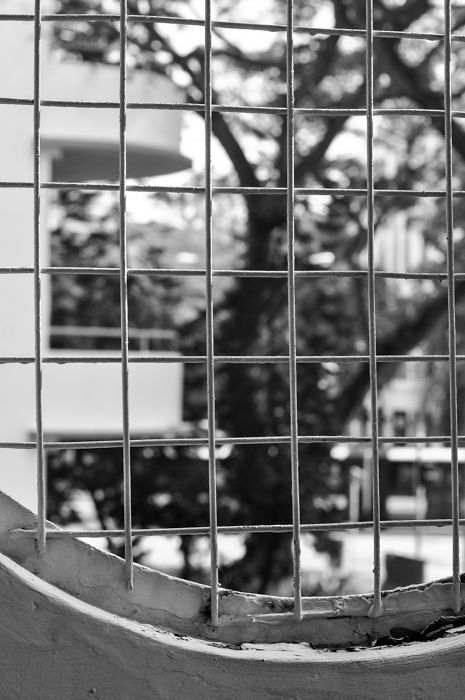 I hung out at one of the staircase balconies in a block of apartments and watched the activity below. These balconies are good spots for photography, quiet and with little human traffic.
There is a really good Teochew braised duck rice/noodle stall in this coffeeshop which I like. They do a very brisk business everyday.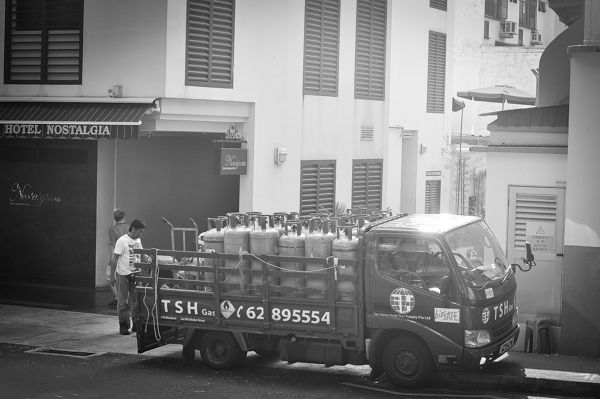 Nostalgia. That's how gas used for cooking is delivered to some households without piped gas. There is always the risk of running out of gas in the middle of cooking a meal!
Could not get a good shot of this spiral staircase, common in these buildings, from where I was standing. So beautiful. To think I used to consider these staircases ugly. My eye for beauty was clearly under-developed when I was a child.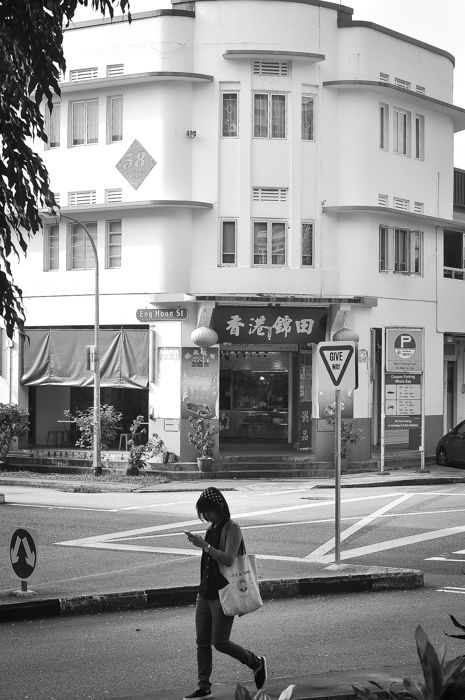 Iconic building.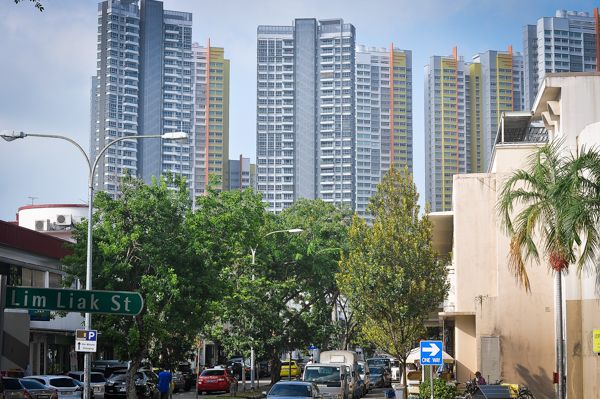 Modern high-rise apartments in the background. Old versus the new.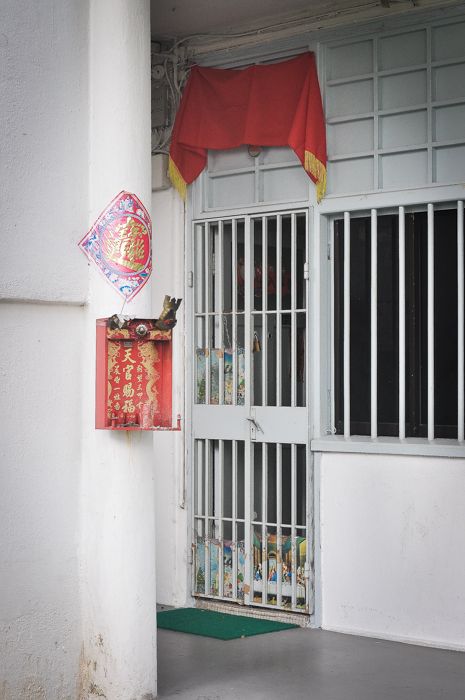 We call these incense holders 'bai bai' which means 'to pray' in local dialect. My mom's incense holder is suspended from the ceiling just outside her flat, which I have accidentally bumped my head into several times.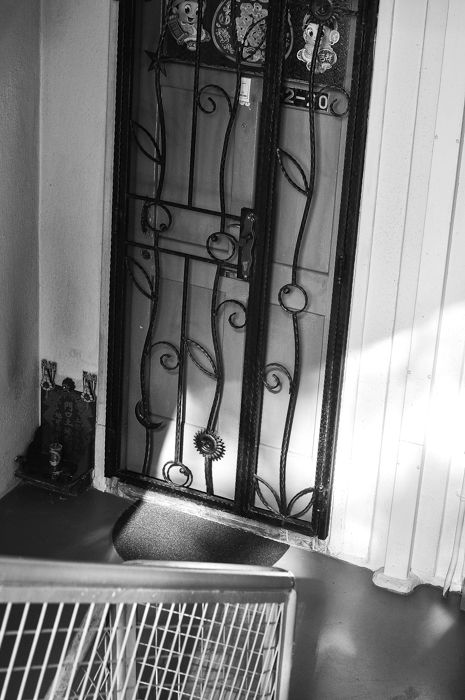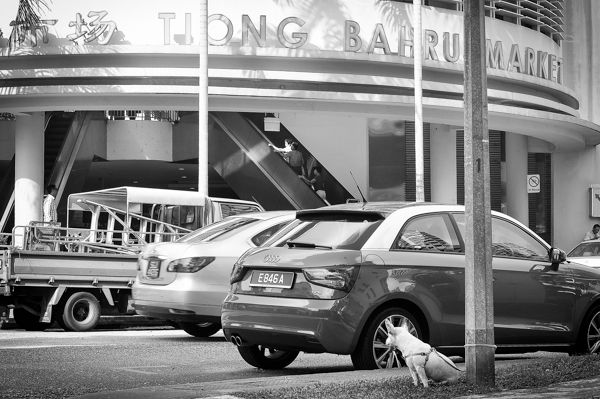 Poor doggie. Secured to a lamp-post by its leash, the owner has probably gone for a bite in the food centre.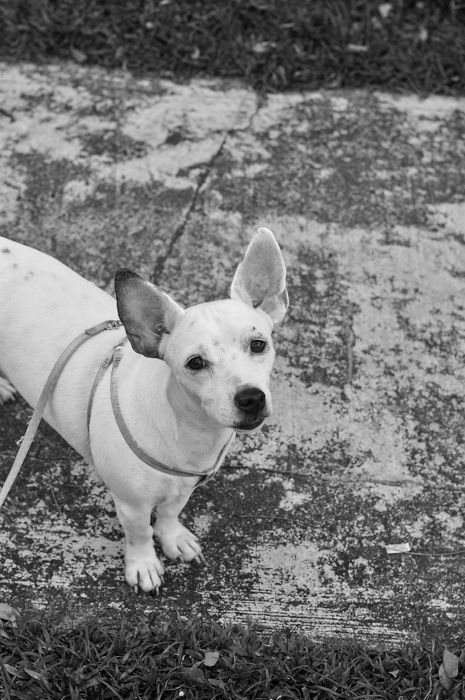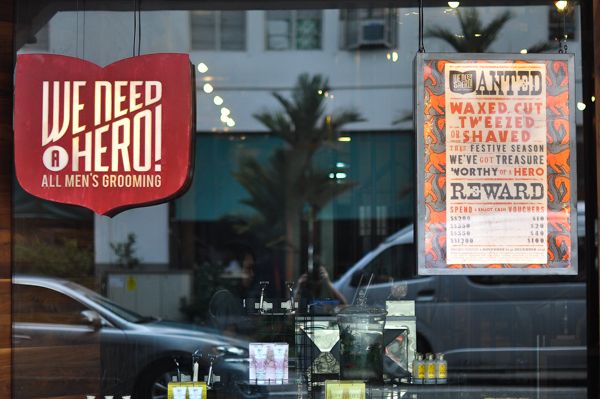 A men's salon. Where they can get waxed, shaved and tweezed.
And I arrived at Tiong Bahru Bakery where I met a friend for coffee. I barely covered one-quarter of the neighborhood!