I think I posted a photo of this restaurant some time ago. But I want to post it again, because it is such a pretty glass building.
I have seen this restaurant in several Korean dramas. I was charmed by the gorgeous ocean views offered by the restaurant, and I really wanted to go and see the place for myself.
So when I decided to go to Jeju, I looked around on the Internet to find the name and exact location of this restaurant. It is called Mint Restaurant, located in a huge golf-and-housing complex known as Phoenix Island at the eastern end of Jeju Island, near Soepjikoji.
As our resort is located on the opposite end of Jeju, we hired a cab to drive us to Phoenix Island. the driver waited for us while we ate lunch and strolled around the complex before sending us back.
The ocean views seen through the floor-to-ceiling glass windows of Mint are STUNNING. Makes you want to linger in the restaurant for as long as you can. I can imagine how gorgeous views of the sunrises and sunsets will be, seen from the restaurant.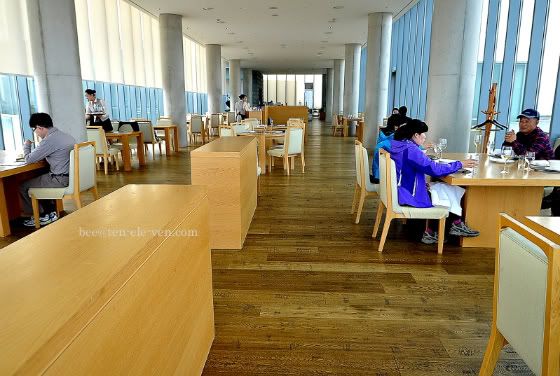 Another view of the interior of the Mint Restaurant.
Jeju: Mint Restaurant In Phoenix Island