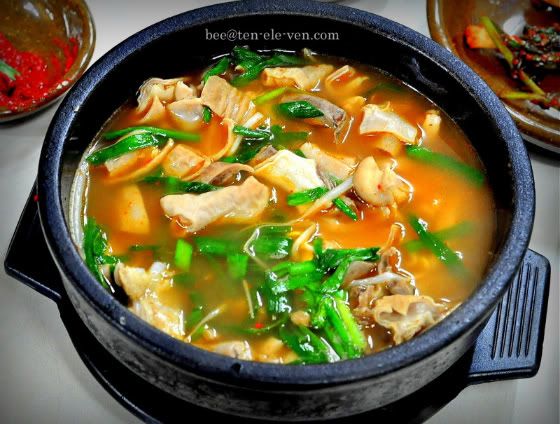 This was one damn good bowl of pig's offal soup that I ate in Gwangju city.  Thinking about it now makes me drool.
It was by accident that I had the opportunity to eat this scrumptious soup at an eatery located a block away from Prado Hotel, where I stayed in Gwangju.
Looking for an early dinner, I wandered into this quiet eatery without having any idea of what I wanted to eat.  Pasted on the walls of the eatery were strips of paper with names of a pletora of food written in Korean characters. I could not understand the characters and had no idea what was sold in that eatery.   The ahjummas shook their heads when I asked whether they sold the usual soondubu jigae, doenjang jigae, kimchi jigae, etc.  What kind of Korean eatery was this place which did not sell the popular Korean staples?
Out of desperation, I pointed to the bowl of soup that the guy at the next table was eating, gesturing to her to give me whatever he was having.  When the ahjumma brought over a steaming hot bowl of soup with a very generous serving of pig's stomach and intestines, I knew I hit jackpot!
After I tasted the soup, I shouted across to the guy at the next table saying 'Kamsahamnida…!!' From the look on his face, he must have thought I was mad.
The soup was sooooo delicious, and worth a 4-hour bus-ride from Seoul just to eat this soup.
Gwangju: Best Spicy Pig's Offal Soup