I have been feeling lousy recently. Tired. Lethargic. Sluggish. Moody. It is a combination of work stress, lack of exercise, poor diet and an overindulgence in rich food and wine on my last trip to the US. When my friend mentioned that she was signing up for a juice detox with Sanacleanse, I decided to follow suit and sign up for the cleanse as well. I did it over a weekend, Saturday, Sunday and spilling over into Monday, a couple weeks ago.
The 3-day cleanse program required me to live on organic, cold-pressed vegetable and fruit juices and smoothies provided by Sanacleanse for 3 days. I was not to consume food, coffee and alcohol during the cleanse. The whole idea is to let your liver 'go-on-holiday' for 3 days, to let it rest and heal. In the meantime, the nutrient-intense juices and smoothies would nourish and renew the cells in your body while it undergoes a detoxifying process.
The week before my cleanse was scheduled to start, Sanacleanse sent me daily emails to give me information on how I should prepare for the cleanse in terms of diet, activities and expections. The company is really quite effective in how it communicates with its customers – daily emails the week before the cleanse really made me feel that someone is managing my expectations. I was supposed to cut down on meat, alcohol and coffee and eat plenty of salads during the few days leading up to the cleanse. Well, I didn't exactly heed their advice and happily ate my sinful meals right up till the day before the cleanse.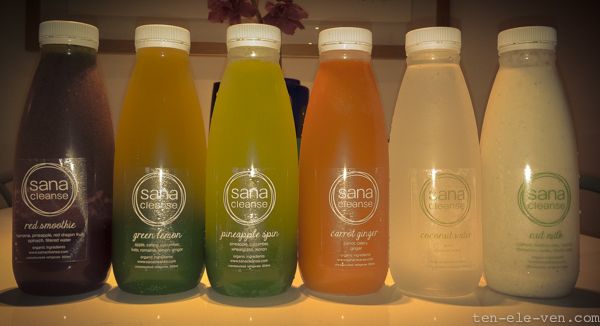 Sanacleanse delivered the juices to me on the night before the cleanse. The juices came in 3 bags – one bag for each day. Each bag had 6 bottles labelled with numbers 1-6, indicating the order that I should drink the juices. The colours of the juices look great right? 🙂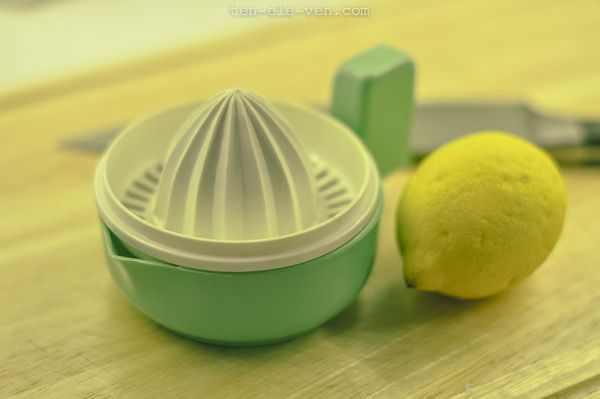 For each of the 3 days, I started out with 250ml of warm water followed by another 500ml of warm water with juice from one lemon. Throughout the day, I drank 6 500ml bottles of juices and smoothies – 1 bottle every 2 hours. In addition to the juices, I was also required to drink another 2 litres of water. That's 5 litres of liquids everyday! As you can tell, I spent quite alot of time in the bathroom. And felt like a bloated water tank the rest of the time.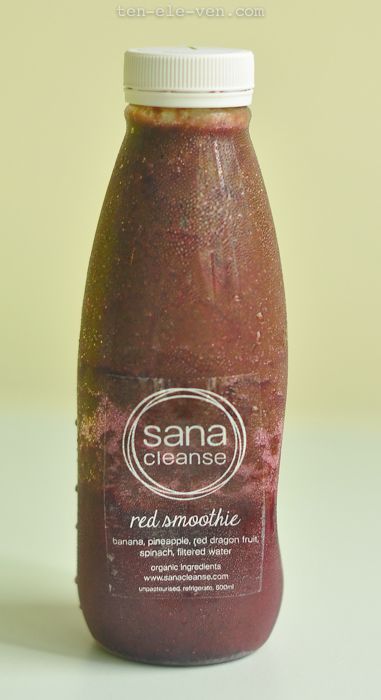 How did it feel during the cleanse? I felt so hungry on Day 1, so hungry that I was ready to cave in and eat something. I could not imagine going without food for another 2 days. I swore never to do a juice cleanse again.


By Day 2, I stopped feeling hungry. Instead, I experienced the full impact of the detox symptoms. I felt slightly nauseous, my chest was terribly uncomfortable and I had a massive headache (which I couldn't tell came from caffeine withrawal or from the detox or both.) I was lying in bed, feeling very sorry for myself and berating myself for being crazy to do such a program. In the end, I decided to cheat a little and allowed myself very small sips of expresso till the headache went away.
By Day 3, I felt neither hunger nor any physical discomfort. Partly because it was a working day and I had a full-day of meetings. There was no time to feel sorry for myself as I was busy shuttling between meetings and the bathroom.
On Day 4, I felt GOOD. I felt refreshed, alert and not much of the fatigue and lethargy that I was feeling before the cleanse. There was a light spring in my step and I didn't feel sluggish as I went about the day. It has more than a week since I ended the cleanse. The 'squeaky-clean' feeling in my body that I experienced after the cleanse has dimmed a little. I have signed up for Sanacleanse's Trio this weekend – this is a gentle cleanse which requires me to drink 3 bottles of juices for 2 days and I can eat salads to supplement the juices.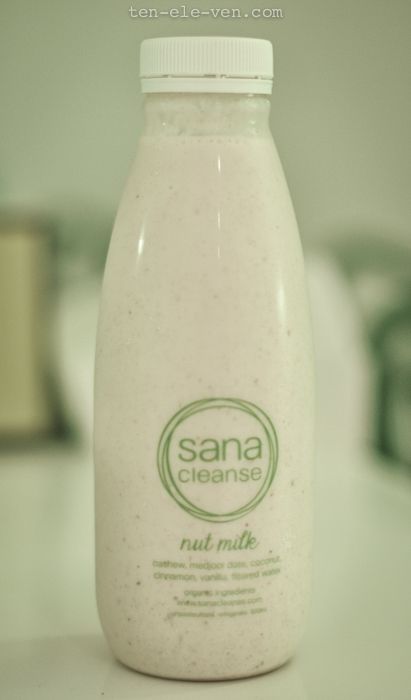 Strangely, I am looking forward to drinking my juices, especially the Nut Milk, this weekend. 🙂
Detoxing With Sanacleanse