We had another hearty home-cooked meal at the Tangs over the weekend.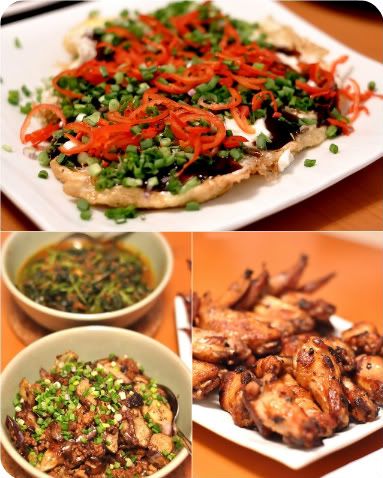 Fried chicken wings. Sambal sweet potato leaf. Stir-fried eggplant with minced pork.
Fried eggs – Rich, runny yolks with unctuous whites and crispy sides.
And best of it all, an awesome slow-cooked winter melon soup with pork ribs and dried seafood ("Pow Tong"). The soup was intensely flavorful . The long hours of boiling must have wrung every bit of goodness from the meat and seafood. (I have no idea what other secret ingredient was added! Hee.)
I love home-made soups, especially when it has been painstakingly simmered by someone who cares. To me, a bowl of home-made soup is what it is meant to be – warmth, goodness and kindness.
White rice, fried eggs and a piping hot bowl of soup – my perfect last meal on this earth. Okay, throw in a good cup of coffee as well.
So when I got home and was in the midst of uploading photos from the camera into the computer, I was like: WHERE IS THE PHOTO OF THE SOUP?
Nowhere to be found. I must have forgotten to snap a picture of the soup. Darn.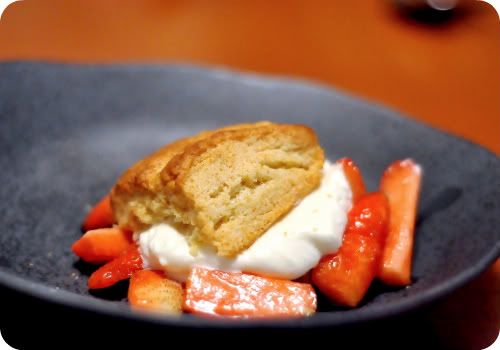 Dessert was delicious shortcakes with Korean strawberries and whipped cream.
I was kinda disappointed that I didn't get a good photo of this pretty dessert the second time round. As usual, TBH was hurrying me so that we could all eat dessert and I just couldn't get a satisfying shot with him going "fai-di, fai-di'.
Argh.