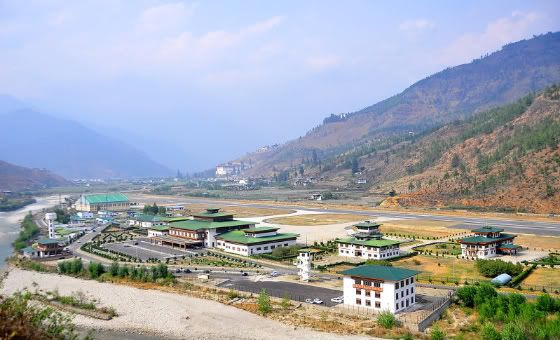 Paro Airport
I was 16 going on 17 (yeah, so tacky-sounding) – and about to embark on the best two years of my life – when I first heard of Bhutan. From my first-year civic tutor in college who also taught Geography.
A dynamic and tough lady. We were all a little frightened of her. But mostly, in awe of her. She gave us a glimpse into what life was like studying outside Singapore and inspired us to seek more in our lives besides academic excellence.
Ah, I really liked the tutors and lecturers in the Arts faculty – they were such fun people to be learning from. I did Arts for 3 months by which time it became pretty apparent to me that if I wanted to pass my A-Levels and go to university, I had better go back to studying Science. Stodgy Science.
Our tutor hung out with us often. Besides telling us stories about varsity life overseas (rowing, partying, mugging, weekend trips to Europe and so on and so forth), she used to talk to us about this beautiful and mystical Buddhist kingdom located 'very high up in the world' but closed to the world, called Bhutan, triggering fantasies of mountains, valleys and rivers.
It all sounded so exciting to me then, having never been out of Singapore except to Malaysia. I told myself that if Bhutan opens up to tourism someday, I want to go visit the country.
(Our tutor eventually gave up teaching to go into something completely different, like banking.)
There are too many places and wonders in this world that I want to see. And I forgot all about Bhutan. Until I was introduced to this travel company called Country Holidays in the middle of last year, saw travel itineraries of Bhutan on their website, rang them up to make some inquiries and learnt that the kingdom is not terribly far away from home, approximately 5 hours by air (excluding waiting time).
So we bought a customised 10-day package to Bhutan with Country Holidays, to go in April this year.
As there are no direct flights to Bhutan from Singapore, we had to fly to Paro via Bangkok (other entry points are Kathmandu and several Indian cities). The flight leaves Bangkok at an unearthly hour (650am, Bangkok time) so we had to fly into Bangkok the night before and stay the night at Bangkok's airport hotel.
Flights into and out of Bhutan are solely operated by Bhutan's national carrier, DrukAir. The airline owns only two planes (the Airbus 319) so the number of visitors entering and leaving the country daily is limited by plane capacity.
Currently, there is only one flight leaving Bangkok for Paro and vice versa daily. Direct flights to and from Bangkok are available 2 to 3 days a week, which unfortunately, were not our travelling days and we had to make transits. On our way into Paro, the plane stopped by in Dhaka for approximately 45 minutes and on our way out of Paro, it stopped in West Bengal for about the same period of time.
The plane's descent into Paro airport offered us some really gorgeous views of Bhutan's beautiful mountains and rugged landscape. It was rather cloudy and foggy that day, but we could still make out the peaks of the snow-capped mountains in the far distance.
When I First Heard Of Bhutan