I have been to Seoul 4 times now – in spring, summer, winter and early autumn (in that order). Besides Seoul, I have only been to Suwon to see the Folk Village. It is time to see the rest of the country, especially the beautiful countryside! (The other country that I would really like to trek around is Taiwan.)
Instead of scribbling down a list of the places that I want to visit in South Korea on pieces of paper, I thought it would be more fun to put up all the information on this blog. This  list will progressively grow longer or shorter.
Whether I get to see all these places is another story. Who knows, I might not even get a chance to go, given the heightened tension between the two Koreas. Crossing my fingers.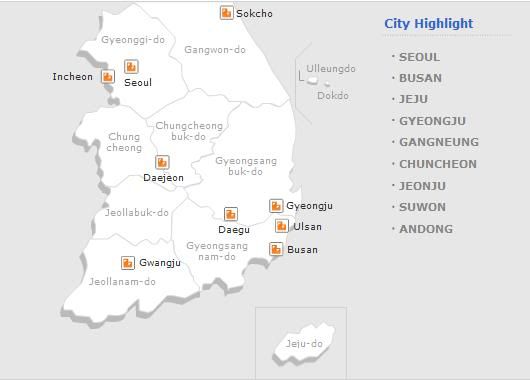 IN AND AROUND SEOUL
Dream Forest: See here.
Pyeongchang-dong: See here
Heyri Art Valley: See here.
Ganghwa Island: See here.
Dosan Park: See here.
Mt. Bugaksan:  See here..
GANGWON-DO
Gangneung (See City map

here

.)
Ojukheon Museum: This villa is the birthplace of Yulgok, a famous scholar born in 1536. It got its name from the black bamboo trees that surround it.  Whenever I hear "bamboo trees" or "bamboo groves", I am immediately sold. 
Gyeongpodae: A pavilion overlooking a Gangneung lake. It is said that one can see the moon five times when at Gyeongpodae – once in the sky, once reflected in the lake, once reflected in the sea, once reflected in the drinking glass, and once more in the eyes of a lover.
Jeongdongjin Train Station: I read that this train station became famous after it was used in the old drama, Sandglass and has earned a spot in the Guiness Book of Records for being the train station that is closest to the sea. A magnificent sunrise can be seen from the train station and that is what I want to see. I should take the 6-hr night train from the Cheongnyangni Station in Seoul and arrive at Jeongdongjin Train Station just in time to catch the sunrise (and in the process, save on one night's accommodation.)
Seaside Train: Enjoy 58km of coast line on a train ride from Samcheok to Gangneung (approx. 75 mins)
See map here.
Nami Island: This is a tiny island in the Bukhangang River created as a result of the contruction of a dam in the river. Another Hallyu-inspired destination as this place was a famous site in Winter Sonata. I have not seen the drama – and don't think I want to – but Nami Island sounds very picturesque and will be great for viewing autumn foliage. There is a shuttle bus leaving Insadong directly for Nami Island everyday.