We walked past Aoyama Flower Market, a beautiful florist-cum-tea-house in Omotesando, and dropped in to use their bathroom.
I took a peek into the tea-house and decided that I wanted to go in! The interior was so pretty! Like a conservatory filled with flowers and wooden furniture, and lots of lovely Japanese women in women's office wear, sipping cups of tea and nibbling on a sandwich or salads.
I wanted to get a table and have a cup of tea (even though I am not really a tea person) just so that I can soak in the feminine ambience of the tea-house. I inquired with the wait-staff and was told that I had to wait at least 30 minutes before a table would become available, and even then, there was already a bevy of ladies seated inside the cafe waiting for their table. (I don't think I caught sight of any male in that tea-cafe).
Pity.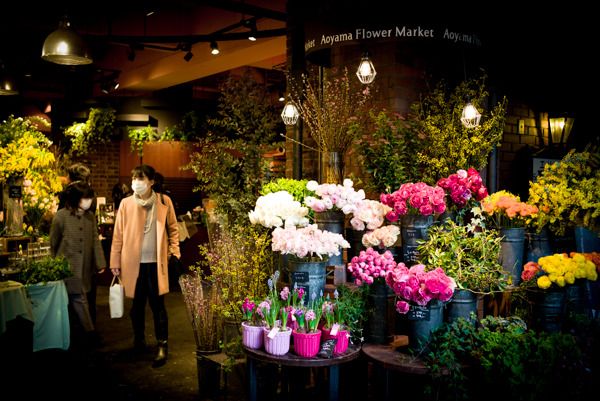 The next best thing that I do was to wander around the flower market, looking at the beautiful flowers, so attractively displayed with blooms in every possible shape and color spilling out of vintage metal cans and glass jars. I could not stop ooh-ing and aah-ing.
Looking at these flowers made me want to ignore all common sense, and walk out of the flower market with the largest bouquet of flowers that I can manage. But what will I do with them?
I love how they arranged the flowers by colors. One section held blooms in shades of vermillion, pink, and peach. Another section held the whites and creams. My favorite section is the one in the last photo – the blue, purple, lavender and maroon blooms.
Next trip, I will be sure to get to the Aoyama Tea House early enough to secure a table, sip a cup of tea and skip out with a stalk of something too pretty to resist. Besides the outlet at Omotesando, they are also located at Akasaka and Kichijoji.
Tokyo: Aoyama Flower Market and Tea House