We spent most of our first day exploring Ihwadong around the Naksan Park area. It was a super cold and windy day, and I was shivering under my coat all the time, secretly hoping for the sun to come out and give me some warmth.
Ihwadong is one of the last few daldongnae in Seoul – poor hillside neighbourhoods with narrow, curving alleyways and steep flights of concrete steps. Walking around Ihwadong is like visiting an open-air art gallery. In 2006, the government organised a public art project to revive the old neighbourhood. Local residents in Ihwadong teamed up with artists to put up lots of interesting and eye-catching artwork – art installations, murals, wall paintings, public signages – in various spots from Hyehwa subway station leading up to Naksan Park and on the way down to the subway station.
Using social-economic reference points, the Ihwadong neighbourhood might be old and humble, but to me, it is aesthetically charming and very quaint. Having seen the lovely and expensive hanoks in Bukchon and the huge private residences in Samcheong-dong, visiting Ihwadong provided us with an insight into the living quarters of another group of residents in Seoul.
I enjoyed trudging the narrow winding lanes and and up and down the steep flights of concrete steps in the neighbourhood (sans the wind), anticipating the next artwork I may see when I turn a corner. We had planned to spend a couple of hours in Ihwadong, but ended up staying there for nearly a day.
In finding our way up Naksan Park, we relied on a colleague's set of photographs containing various artworks to guide us along. I am going to do the same; retracing the steps we took on our outing to Ihwadong, which will hopefully also serve as a guide for any of my friends who are keen to visit Ihwadong. I don't think we saw everything there is to see in Ihwadong during this trip, so a repeat visit is definitely on the cards, hopefully in the not-too-distant future.
As this is going to be a loooooong (*yawn*) post with plenty of photographs, I will have to split this up into two to three separate posts. Part I is the boring bit though.
Here we go…!
We took the subway to Hyehwa Station at Line 2, left the station using Exit 2 and sighted this piece of artwork right away. It is actually a ticket box office of a theatre in that area.
We walked past the ticket box office and went straight ahead for about 10 to 15 mins. And saw these artworks and buildings along the way.
These poop-like structures are quite cute. We continued walking.
"New thinking, new possibilities". I like that.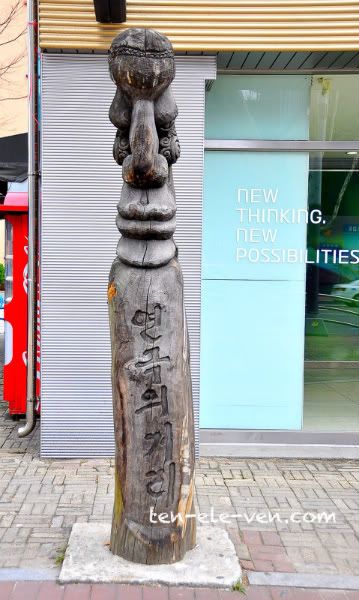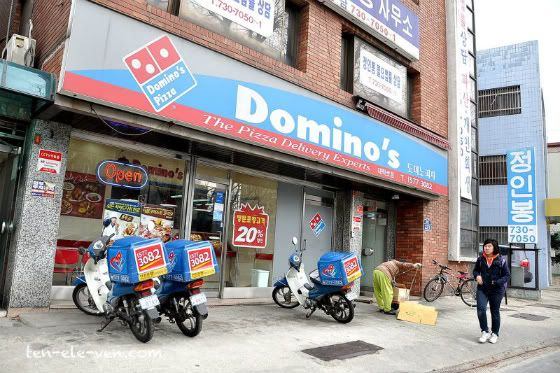 We passed by Domino's Pizza where we had our toilet break – the staff in Domino's were kind enough to give us keys to their bathroom. We continued walking, enjoying the Korean street scenery and snapped photographs of all the interesting artwork that we saw.
We turned left at this convenience shop called Mini Stop. Right in front of us was a big traffic intersection. After turning left, we walked straight on, where we could see the road starting to slope upwards, about 500m ahead.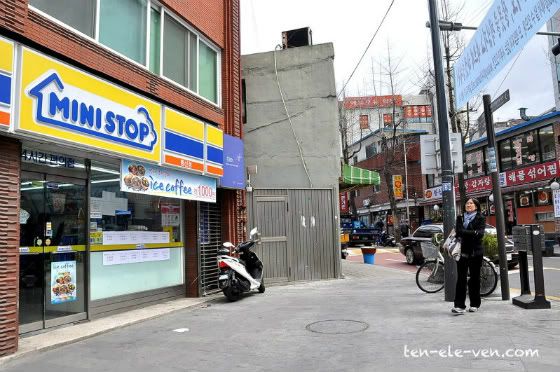 After turning left at the convenience store, we saw this 24-hour Korean eatery on our right. The food on the posters looked delicious and I was tempted to stop for a big bowl of steaming hot soup to warm my frozen insides.
Strolling along, we saw this barbershop on our right. Look at the colouful exterior! You cannot miss the shop which has such a eye-catching facade. I wonder what the inside of the barbershop looks like. *kicks myself for not opening the door to take a peek* When I am feeling very cold, the brain tends to become a little slow on the uptake.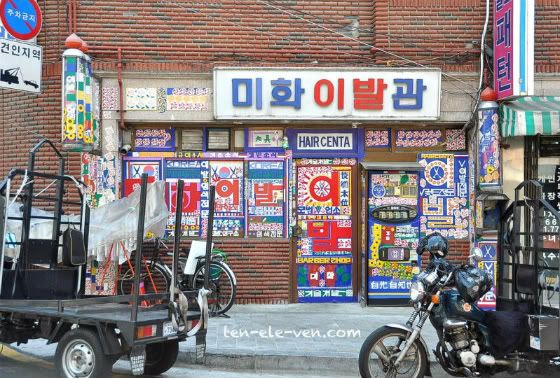 By the time you pass the garish barbershop, the road starts to incline upwards.
As we walked, we turned back and saw this big wall painting of a man and a woman. I read that they were workers in the needle/sewing industry as Naksan was home to many sewing factories in the past. I suppose this painting is to remind people of Naksan's history.
This is the point when the wall paintings and murals start to appear…!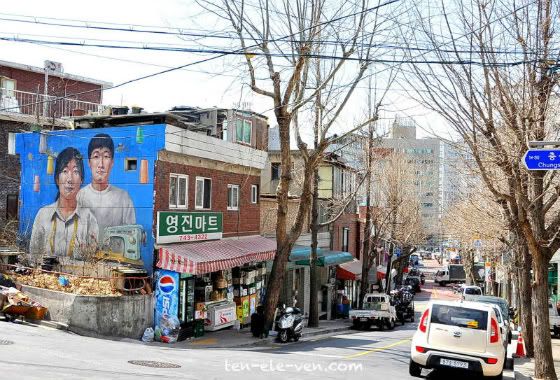 Shortly after passing the wall painting, we approached a bridge with murals and paintings on both sides of the wall.
The whimsical sketches on these powder blue walls were drawn on tiles, and we lingered around for a while admiring the sketches.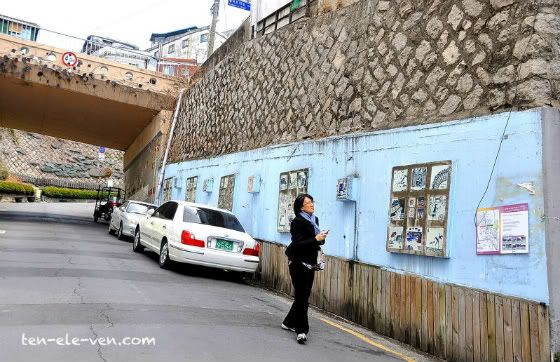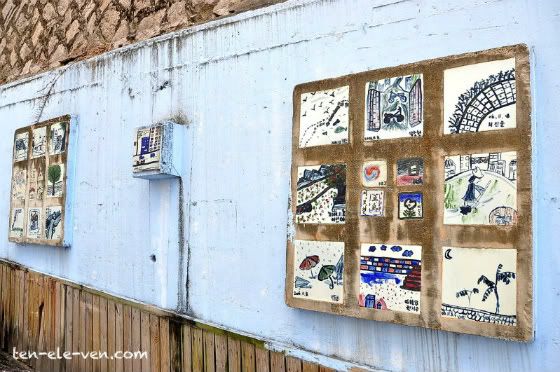 Under the bridge.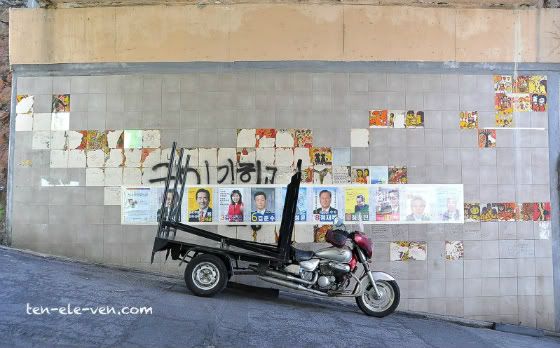 Exiting the bridge, we see these.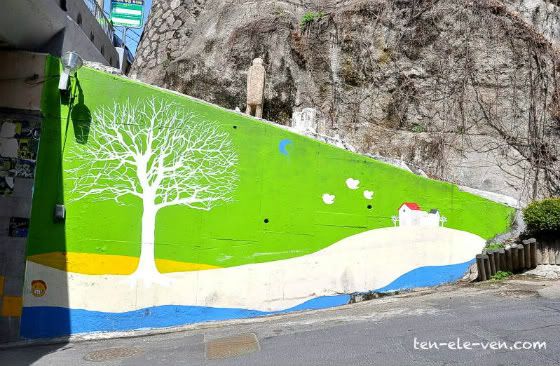 At this point, the road starts to wind upwards. We spot a signage with a 'snail' telling people to go slowly.
And that's my reflection in the mirror.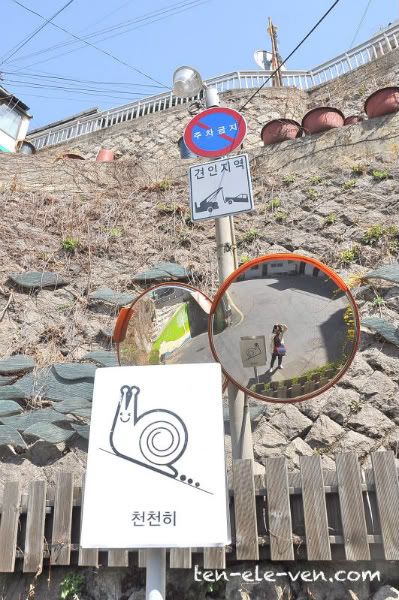 We followed the curve of the road, then I sat down for a breather with this view in front of me, hoping to continue walking along the road shortly after.
Then we spotted a cat and started chasing after it, going in the opposite direction of this road, into the back alleys of the residential houses.
This is the well-known P-turn in Ihwadong that many photographers like to photograph at night at one one of the alleyways seen in the top of the picture.
More posts on Street Art In Ihwadong here:
Street Art In Ihwadong (Part II)
Street Art In Ihwadong (Part III)
A Quaint Doll Shop In Ihwadong
Seoul: Street Art In Ihwadong (Part I)