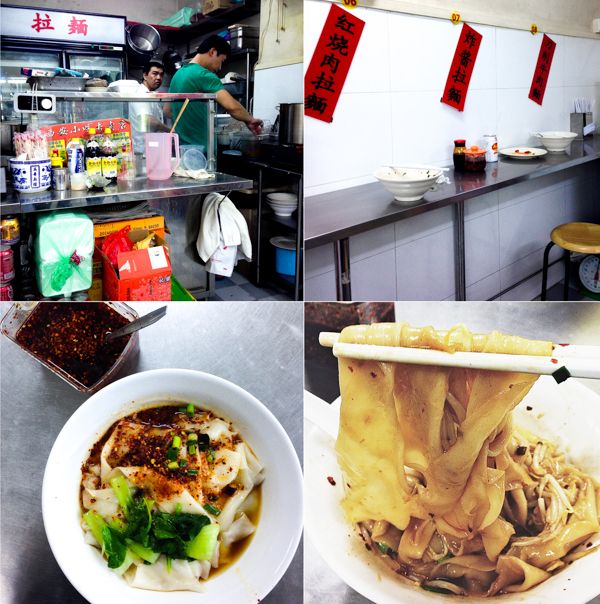 I saw a photo of hand-pulled Shaanxi noodles from a Chinese noodle joint (called Xi An Xiao Chi Chuan Mai Dian) in Pearl's Centre in my Instagram feed and I just had to go and try it for myself! I love eating handmade noodles like ban mian and kalguksu.
I have not stepped into the somewhat dodgy-looking Pearl's Centre for more than 15 years, and this old building will soon be torn down to make way for the MRT line. Located on the ground floor of the building, the hole-in-the-wall eatery is helmed by a cheery Chinese lady and was filled with Singaporeans and Chinese nationals almost immediately after I sat down at an empty table. Just 5 minutes later and I would be forced to sit at the narrow counter facing the wall. The eatery's menu is pasted on the walls, and its small repertoire of noodles dishes included pork ribs la mian, beef la mian, zha jiang mian, dao xiao mian ("knife-cut noodles"), you po mian (loosely translated as "oil-sprayed noodles") and a couple of other Chinese-style items.
After much indecision, I finally ordered the you po mian, which is pappadelle-style noodles, hand-pulled by the cook just before throwing them into a big pot of boiling water. The noodles were tossed in an appetizing concoction of soy sauce, vinegar, chili oil, crunchy bean sprouts and some greens. Well-coated with the slightly tart sauce, every bite of the broad, flat noodles, doused with plenty of chili, was delightful. I ordered a small portion but I could only manage to eat half it.
I am gonna make a return visit soon, to try their beef noodles.
Shaanxi Hand-pulled You Po Mian (油泼面) In Pearl's Centre