I enjoy walking around the Bukchon and Samcheong-dong area, looking at the old hanoks, some of which are still residential property while others have been converted into shops.  It is a place where the old juxtaposes against the new – you can look down into the hip and trendy Samcheong-dong while walking along certain stretches of Bukchon.  The walk can be a bit of a strain as it involves climbing a fairly steep hill from the street level up to Bukchon.  Makes me wonder how people in the Joseon days do it.
I like going to this shop in Bukchon called Granhand that sells handmade perfumes, scents diffusers, room sprays, aromatherapy oils.  I went there recently to stock up on their lovely Vivian Ward grapefruit-scented diffuser and room spray.  On the way down to Samcheong-dong, I visited a beautiful teahouse called Cha Masineun Tteul (which translates into "a garden where people drink tea").  I drink way too much coffee whenever I am in Seoul, and it is a nice change to have some tea.  This is the first time I have been to Cha Masineun Tteul even though I have read much about it in travel blogs.  I usually visit my regular teahouse in Insadong for a piping hot cup of ginger tea.
The teahouse is very pretty.  The sitting area encircles a little courtyard garden, offering guests a view of a lily pond and plants while sipping a cup of tea and nibbling on Korean snacks.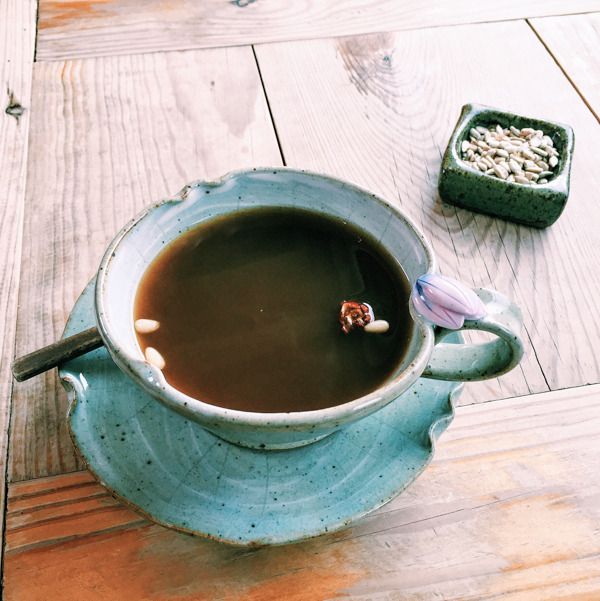 I don't really appreciate Korean snacks so I ordered a cup of ginger tea to warm myself up as the weather was very cold.  I love the lily-shaped cup that the teahouse used to serve the ginger tea!
Cha Masineun Tteul
Address: Samcheong-dong 35-169, Jongno-gu
Seoul: Cha Masineun Tteul Teahouse In Bukchon