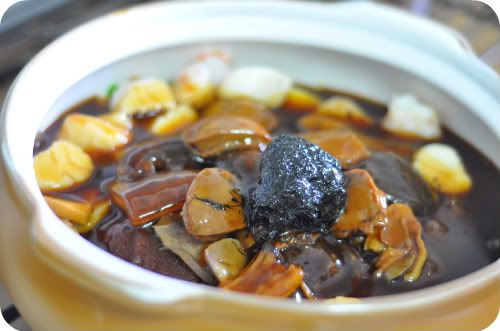 Pen cai (or poon choy), Tunglok Classics
We had our reunion dinners this weekend. With my side of the family – at Mom's place. With my in-laws – at Imperial Treasures.
For reunion dinner with my in-laws, we usually have steamboat (which I love…!) but we decided to eat out this year to give my mother-in-law some respite from looking after her new-born grand-daughter. We had a very tasty dinner at Imperial Treasures but it just cannot beat having steamboat dinner at home.
My mom, who is not big on steamboat or eating out, prefers to whip up a few home-cooked dishes for reunion dinner. I have always wanted to try the Cantonese dish called pen cai (I often saw this in the TVB dramas that I used to watch many moons ago) so this year, I suggested to Mom that we order a takeaway pen cai from Tunglok.
It was quite a hit with everyone at home, especially Mom who is fond of dried oysters, baby abalone, scallops, mushrooms, sea cucumber, etc and pen cai had most of her favourites in one pot. It made her even happier that she could keep the huge claypot that came with the pen cai.
Me, I wanted only that pile of fa cai (which vanished by the time I was done with taking photos of food on the table, damn it!), deep-fried pig's skin….and the thick, luscious gravy!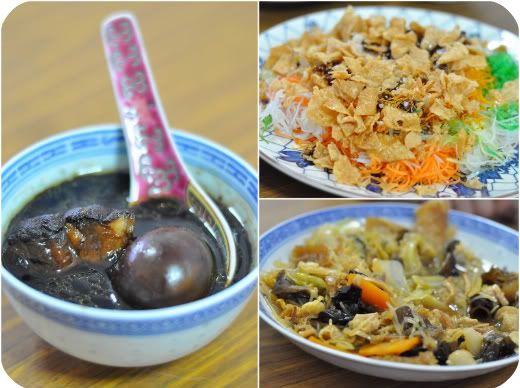 Apart from pen cai, Mom also made pig's trotters in vinegar, chap chye, lotus root and peanut soup.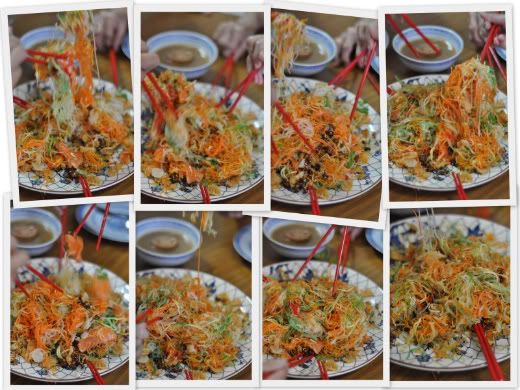 And tossed yusheng from Tunglok as well…it was disappointing though.
And now, I am all ready for that huge bout of Monday blues.