I bought a Panasonic Lumix GF2 a couple of years back because I wanted a small camera but had capabilities similar to that of a DSLR. I wanted to be able to bring along a camera in my handbag so that I could snap photographs as I go along my daily life. However, the experience with the camera hasn't been positive and I have been toying with the idea of selling it. I wasn't satisfied with the quality and colour of the images that my GF2 has been producing. Some camera-phile friends think that there might be a problem with the focusing function of the camera and have suggested that I send it to the service centre. I am going to do just that soon.
Last week, on a whim, I took the GF2 to work with me. On my walk to between MBS and the MBFC during my lunch-hour, I saw these boats at the Marina Bay promontory. A sailing event! It was the Extreme Sailing Series and Singapore was part of Team Aberdeen. So instead of hurrying back to work, I paused and took some photos of the boats sailing right in the middle of the Central Business District, on the Singapore River. I thought the skyscrapers formed a fantastic backdrop for the sailboats.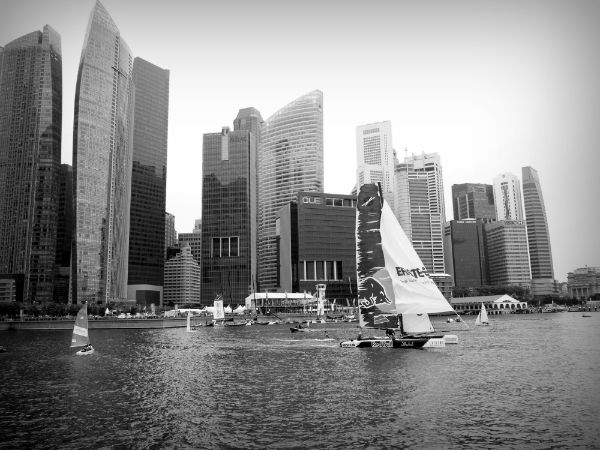 There was a period of time in my life when I spent time at a sailing club scrubbing the hull of a catamaran. I have also gone out to sea in a catamaran, a laser and a bigger boat (the sort with a cabin but I cannot remember the name now), and capsized in the middle of sea. For someone who hates the sea and can barely keep her head afloat in water, these experiences are amongst my life's greatest achievements. 🙂 Watching these sailors brought back good memories of those sailing days of mine. Nothing will make me get onto a sailing boat now!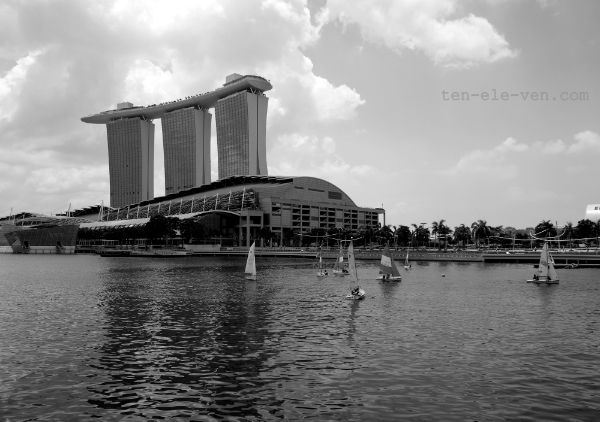 As part of the Extreme Sailing Series event, there were other side events going on in the promontory, including inviting two gourmet food trucks, the Kerbside Gourmet and The Travelling C.O.W., to spend 2 days in that area. I have been excited by the idea of gourmet food trucks and have been looking forward to trying their food. It was great that they were just a short walk away from my work place.
The problem about food trucks in Singapore is… the weather. Eating under a huge tent in the sweltering heat made it difficult for us to enjoy the experience. One could keel over from heatstroke. I nearly melted into a puddle of fat in the heat. I am gonna try the food again another time, hopefully, in a shady spot. Or I will bring along a portable fan.