The host of TBH's business meeting gave us a couple of suggestions on accommodation, and we chose to stay in a 3-star Radisson hotel called Park Inn.  The hotel is not a luxurious or fancy one, but it has an excellent location.  It is a short walk or tram ride to the harbour, museums, shopping streets and the subway station.
We arrived on a Sunday afternoon, and the city looked like a ghost-town.  The shops were closed, the restaurants were closed, and the streets were empty and quiet.  After we checked into the hotel and freshened up, we decided to take a walk and explore the area around our hotel.  We had a couple of hours to kill before going for dinner at 5pm.  I had made a reservation at Solsiden, a popular seafood restaurant located at the harbour, in Singapore.
We left the hotel, walked down the streets, and turned the corner into this charming square.  I was like – WOW!  This is so pretty.
Mint green and persimmon-coloured buildings side by side.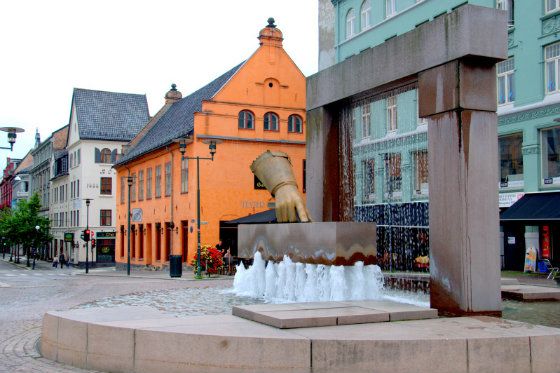 Many people were posing for photographs at this fountain and I had to wait a while to get a shot of this which didn't have any human beings or traffic.
Love the mustard-yellow walls of this cafe. We walked past this building everyday but never got around to actually entering the cafe.
Pretty pots of flowers.
Mom looking for lice…?