In Tokyo, I satisfy my Japanese cake and pastry cravings at Harbs. Even though Harbs is also present in Osaka, I wanted to find out which are the other patisseries that I should visit.  One name kept popping up in my research – Mon Cher Patissierie's Dojima roll cake.
I love love love roll cakes so I made plans to drop by their main outlet at Dojima in Osaka (which was a little way out from where we were staying).  Interestingly, the Mon Cher roll cake was created by a Korean lady.
As luck would have it, I did not have to make my way to Dojima.  We were walking around in the Hankyu Department store in Umeda and saw a Mon Cher outlet in the mall's food basement.  I hurried to the counter and stared at the roll cakes for a long time, struggling with the decision of whether to buy one entire roll cake back to the hotel, or be sensible and buy just two slices. We still had some Pablo cheese tarts sitting in the fridge in the hotel room!
In the end, good sense prevailed and I decided to get two slices of the plain roll cake.  By which time, the plain roll cake slices were almost sold out and only one slice was left if I wanted it.  Arggghh – the cost of indecision.  In the end, I bought the remaining slice of plain roll cake and a slice of chocolate roll cake.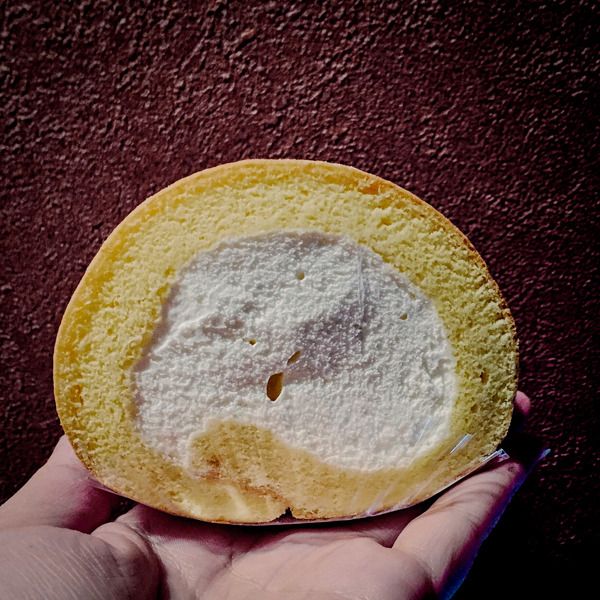 The roll cake was absolutely delicious.  The cream filling, made from Hokkaido milk, was very fresh, light and silky.  Mon Cher's sponge cake was denser and had a more chewy texture, unlike the usual feather-light and fluffy Japanese sponge cakes.  I felt that bread flour may have been used in making the sponge, giving the cake its denser texture, which goes very well with the cream filling.
I should have just been greedy and bought the entire roll cake!
Osaka: Dojima Roll Cake By Mon Cher Patissierie