We came to this coffee shop at 7 Crane Road for roti prata last Sunday. Increasingly, it is getting harder to find these traditional coffee-shops in Singapore. You still see them around, but the numbers are dwindling. Many have closed down, or have been converted into restaurants, or modern, air-conditioned food courts.
When I was a kid, I shunned these coffeeshops. I wanted to go to air-conditioned places like KFC or MacDonalds. I was quite a snooty little brat. I found these coffee-shops unhygienic, especially in those days when every table had a spittoon (containing all sorts of unmentionables) underneath. I always felt extremely uncomfortable in these places. I was worried that a lizard or cockroach would find its way up my legs, so much so that I would sit with both feet on the chair, much to my mom's displeasure. And I made sure that I have no reason to visit the lavatory in the coffeeshops by refusing to drink water or soup. I would rather die that use those dirty lavatories!
Dark and warm, mosaic tiled floors and walls, marble-top tables, crickety wooden chairs, (yes) the spittoon under the tables, huge ceiling fans. This is how the coffeeshops of my generation looked like.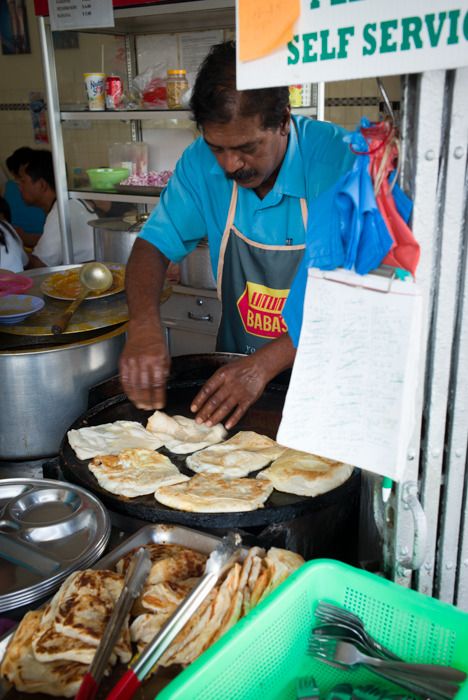 The roti prata man – I am always fascinated by how he manages to work the dough into a thin round shape by swinging it in a circular motion in mid-air, then folds the sides to make a square, before placing it on the hot girdle.
I drop by Joo Chiat quite frequently for meals, but never knew there was an incredibly popular roti prata stall – Mr & Mrs Moghan's Super Crispy Prata – in that area. We waited close to an hour on a Sunday morning. Very good prata, crispy on the outside and chewy on the inside. But…I cannot repeat the one-hour wait again.
Old-school wantan noodles. Simple and delicious. We ate a plate to tide us over the hunger pangs while waiting for our roti prata to arrive.
Mr and Mrs Moghan's Super Crispy Prata