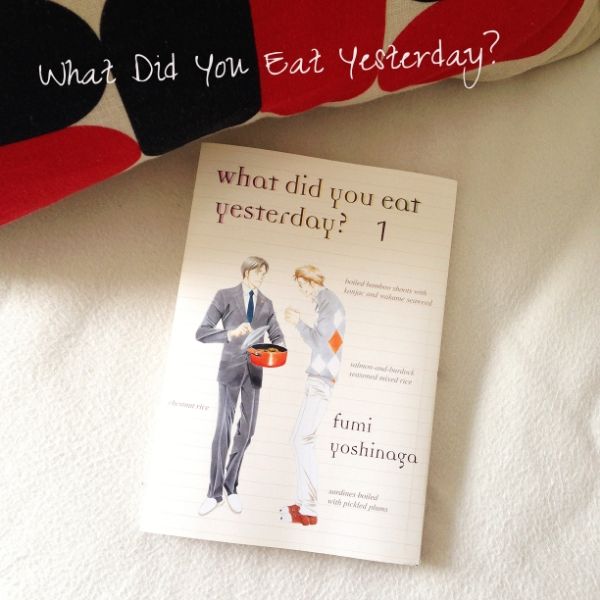 What did I eat yesterday? I indulged in gluttony. I had an Egg McMuffin meal for breafast, durian ice cream for tea, and delicious zichar (seafood horfun, fried pork ribs, sambal kangkong and homemade tofu) at Por Kee in Tiong Bahru. I am so glad that Por Kee is back in business after closing its doors for many months to refurbish the shop, and that we did not lose another good local eatery to rising rentals and labour shortages.
After reading Fumi Yoshinaga's Antique Bakery some years back, I searched for other mangas authored by her and came across What Did You Eat Yesterday. I have seen only three volumes being translated as English scanlations online, so I was really glad that the North American publisher, Vertical, has released Volume 1 of this manga in English. I bought a copy of Volume 1 at Kinokuniya two weekends ago.
What Did You Eat Yesterday is about the day-to-day lives of a gay couple, Shirou Kakei, a strait-laced lawyer, and Kenji Kabuki, a hair-stylist. The manga is part slice-of-(gay)-life and part Japanese foodporn, and revolves around the food that Shirou cooks everyday for dinner at home. Besides talking about food, the manga also tells the story of their lives together as a couple and how each relate to their family, friends and colleagues about their sexual orientation.
Unlike a typical Japanese lawyer who puts in long hours at work, Shirou chose not to work at a big law firm so that he can knock off promptly at 6pm everyday to go grocery shopping and cook dinner at home. He does wish to enslave his life to work and cooking is a way for him to de-stress and enjoy life. Admirable. I wish more people would have the same perspective. Well, I know one (straight) guy who has the same attitude, and it is refreshing to have people like that around you. They remind you of what is truly important in life.
While Shirou has disclosed his sexual orientation to his parents (who are quite amusing in their attempts to 'convert' him to being straight), he is not comfortable doing the same with his colleagues. His slightly younger partner, Kenji, is the opposite in terms of personality and character. Kenji has a more carefree attitude about life and is open about his orientation to everyone around him.
Unlike Oishinbo, What Did You Eat Yesterday does not delve into the intricasies of cooking traditional Japanese food, details of ingredients, nor does it have an exciting father-son battle as a plot device, but is no less entertaining or informative to me. The manga depicts how Shirou plans their meals around household budget, variety and nutrition, and how he goes about cooking the food. It is sort of a loose leaf Japanese recipe book, with an ingredient list and simple cooking instructions, giving readers a general idea of what a typical Japanese homecooked meal looks like.
I am so looking forward to reading the subsequent volumes of What Did You Eat Yesterday.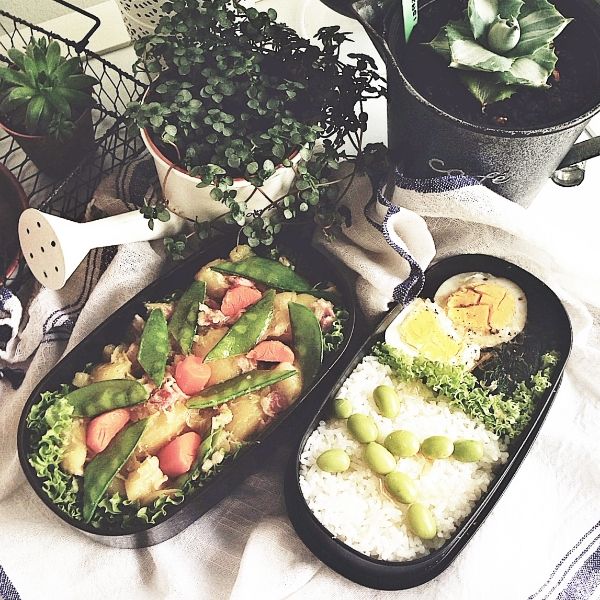 I have already tried making one Shirou Kakei recipe from the manga! It went into a bento for my husband's lunch on Tuesday (I tried making the Japanese character for Tuesday using edamame). Potato with minced bacon and leeks hidden under the carrots and mangetout. Not a very pretty bento but I had fun putting it together.
xoxoxo
Manga: What Did You Eat Yesterday Vol. 1