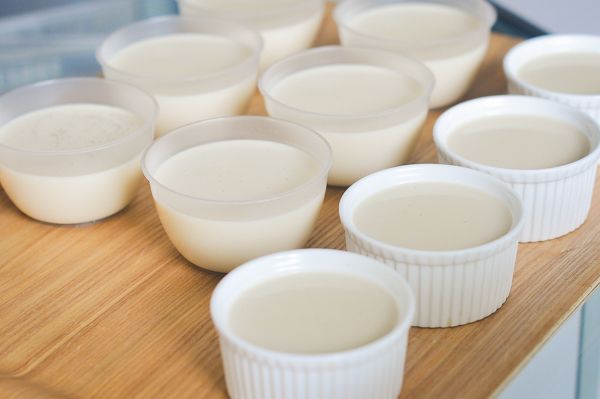 I was totally mad for Lao Ban beancurd when the beancurd fad descended on Singapore two years ago. I would join the long queues that formed at various times of the day just to eat the cold pudding-like beancurd, made popular by this stall known as Lao Ban.  The cold, light and smooth texture of the beancurd was wonderful in our hot, tropical weather.  Lao Ban produced several flavours of the beancurd pudding – original, almond and durian.  My favorite was the almond-flavoured one and the original came in as a close second.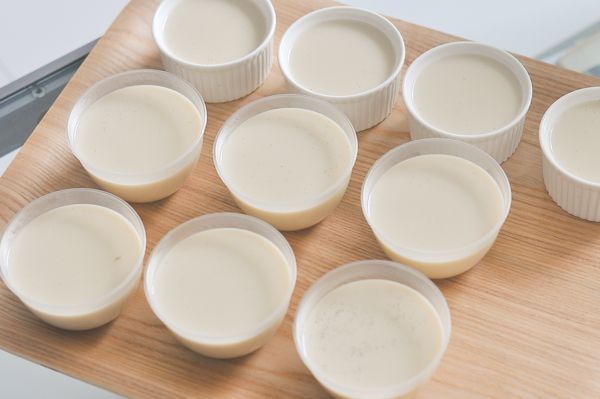 Making the beancurd pudding is a breeze once you get hold of all the ingredients from the supermarket and specialty baking shops. I have to figure out how to make the almond-flavoured version.
Lao Ban-style Beancurd
Author:
Prep time:
Cook time:
Total time:
Ingredients
60g Polleney Soybean Powder (from NTUC)
30g Unisoy Soya Milk Powder (from NTUC)
30g Nestle Coffeemate (from NTUC)
20g sugar
13g REDMAN Instant Jelly Powder (from Phoon Huat)
700ml water
1 vanilla bean pod (optional)
Instructions
Place the Polleney Soybean Powder, Unisoy Soya Milk Powder and water in a saucepan.
Heat the mixture over low fire and use a whisk to combine thoroughly. There will be plenty of bubbles forming on the surface of the mixture once it is heated but do not let it boil. Add the vanilla bean pod.
Add sugar and Nestle Coffeemate to the saucepan and whisk to combine. The bubbles would have disappeared. Again, do not let the mixture boil.
Once the soybean mixture is very hot (when steam appears from the mixture), add Instant Jelly Powder and whisk quickly to dissolve the jelly powder.
Pour the mixture through a sieve (to remove bubbles and any bits of powder floating in the mixture) into a measuring cup.
Pour the sieved mixture slowly from a low height into serving bowls. This is to prevent bubbles from forming in the serving bowls.
Chill in the refrigerator for several hours.
Notes
The above-mentioned ingredients were doubled to make the quantities shown in the photographs.[br][br]Recipe is adapted from www.dejiki.com.