Quite a number of people have asked me for a samgyetang recommendation in Seoul. I am a big fan of samgyetang. Okay, I like the soup and chicken, not so much the glutinous rice that is stuffed inside the chicken. The soup is so hearty, especially during cold weather.
I learnt that samgyetang is a summertime specialty as the Koreans believe that summer is the best time of the year to consume samgyetang, because eating it then yields the most health benefits. There are even specific days during summer designated for eating samgyetang. This sounds like the perfect dish for hot-all-year-round Singapore.
I have not tried many samgyetang restaurants in Seoul, but of the few that I have tried, Tosokchon is my favourite. The restaurant, located in a charming hanok, is quite famous in Seoul.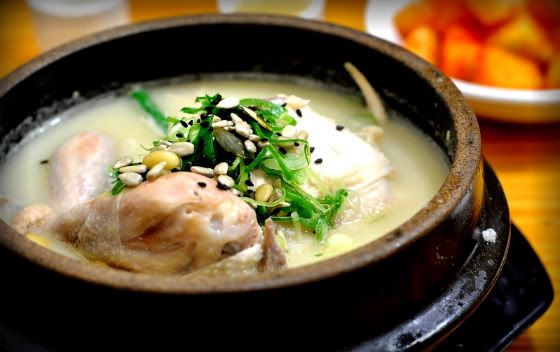 I love the milky chicken broth that the restaurant serves. The broth is thick, robust and very tasty. It is soooo wonderful. I know that Tosokchon serves very good fried chicken too, but I haven't gotten around to trying this dish. 'Cos everytime I go to the restaurant, I must have a pot of samgyetang by myself. The huge pot of broth and chicken is more than enough to fill my stomach to the brim, leaving no space to eat anything else.
The restaurant serves a small cup of ginseng liquor together with the samgyetang (or sometimes, just before the soup is served) which diners are supposed to drink before eating the soup. I love the warm and fuzzy feeling that the liquor gives me.
Each time I get a request for a samgyetang recommendation, I have to root around the Internet to find out the exact directions to Tosokchon. I know how to get to the restaurant myself, but I do not know how to describe its location. I thought it would be useful and time-saving to blog about this restaurant here for easy reference should I get another request in future.
Tosokchon is just a short walk from the Gyeongbokgung Station. Directions are:
Take the subway to Gyeongbokgung Station (Subway Line 3)
Leave the station using Exit 2 and walk along the row of shops. The shops should be on your left and the main road on your right.
Turn left at the G5 convenience store and Tosokchon is about 50m ahead.
Long queues during lunch and dinner hours!