9 August 2011.
For some years now, it has become some sort of a National Day ritual (is there a better word to describe this..?) for us to hang out at a friend's place over a home-cooked brunch, booze and plenty of yabber-jabber for hours until we become incoherent from food-and-alcohol-induced drowsiness.
It was no different for us this year. As always, we had a marvellous time eating very delicious food, downing fruit-based cocktails and just chatting.
Itadakimasu.  いただきます。
Onion, potato and gruyere galette.  とても おいしかったです。

I could go on and on posting photos of different angles of this tart…! Couldn't decide which one I liked better.  Gosh, I feel hungry looking at these photos.
Fluffy shortcakes. Eaten with butter and jam.  I like it best when eaten au naturale.

Mini beef burgers cooking on the grill.

The burgers were made with freshly-minced-at-home beef.  I should have also taken a photo of the back of the chef standing at the grill.  That would really be a 'smokin' hot' sight.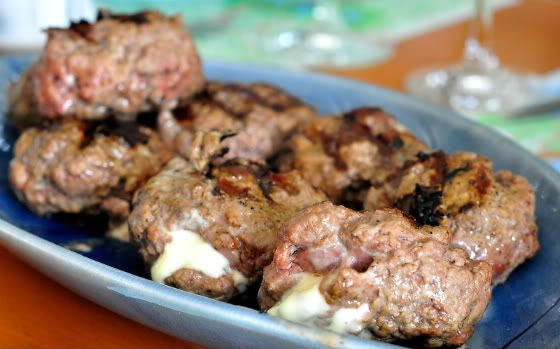 I had my burger California-style which just means eating the beef patty without buns, tomatoes, onions, pickles, the usual condiments, etc.  All the things associated with eating a burger that I am familiar with.
How is a 'burger' a burger when it does not come sandwiched between buns? The concept was a little alien to me at first. It is like eating chicken rice without the rice or kway chap without the kway.  While my mind took some time getting used to the concept, my palate and my stomach understood it immediately!
Strawberry slush with Grand Marnier.

An innocent-looking killer.  You think you are drinking a really healthy strawberry smoothie until you wonder why you feel so woozy.
Nutella bread pudding.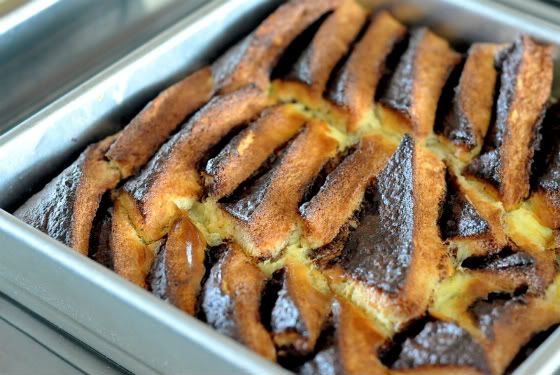 By the time we passed the half-way mark for brunch, my camera (or rather, the lens that was attached to the camera) decided that it had enough of food porn and just stopped functioning. Damn, why couldn't the lens just stick it out until the meal was complete.  カメラを壊れてしまったんです。
I had to use my trusty iPhone to take photos of the rest of the meal.  We also had a berry crumble with freshly-whipped cream, Nutella bread pudding with creme anglais and TWO more fruit-based cocktails! But as we speak, photos of these are still sitting in the iPhone and I have not gotten around to downloading them.
I brought some crumble home and left it in the fridge.  I was happily eating cold crumble with cold creme anglais while typing this post.  These things taste even better after being left in the fridge for a couple of days.
We may never say it often enough.  But it is never too late to do so.  Candice: thank you for always making us such yummy food.  Candice-さんは 友達に いつも 美味しい食べ物を作ってあげるんです。I am sure there is a better of saying this.  Just that I haven't learnt it yet!