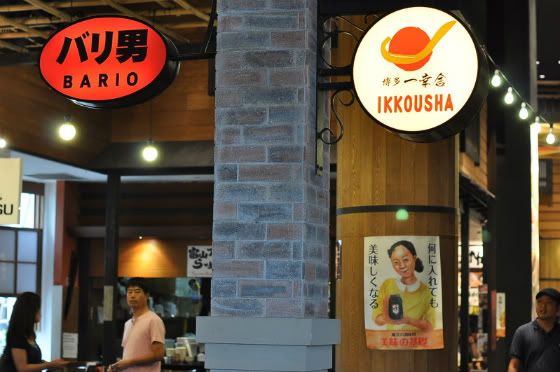 Back in 2006, TBH and I spent three days in Hakata city, Fukuoka during a trip to Japan. I don't remember very much of the city but the one thing that has stayed in my mind is Ramen Stadium located on the top floor of Canal City, a shopping mall in Hakata.
Ramen Stadium has the same concept as Ramen Champion in Illuma at Bugis – famous ramen stalls all over Japan were selected to set up shop in one spot.
At that time, I was so fascinated by the concept of a one-stop ramen restaurant where one could choose to eat specialty ramen from various parts of Japan – Tokyo, Sapporo, Hakata – in one place. You decide on which stall we wanted to eat from, buy a food ticket from the vending machine and place your order at the specific stall. It was really cool.
I remember that Ramen Stadium also had a souvenir shop which sold pre-packed ramen gift boxes and I brought back some to give to friends.
My favourite ramen is Hakata-style ramen. Unless I have no choice (which is rarely the case), I almost never eat miso, shio or shouyu ramen. I like Hakata ramen for its milky-rich pork bone broth and noodles. Unlike the thick, chewy and (in my opinion) somewhat starchy noodles from the other regions, Hakata's noodles are thin and smooth. IMO, the texture is not very different from somen or meesua, which I love to eat.
I have been to Ramen Champion twice now. Both times, I had the Hakata-style ramen.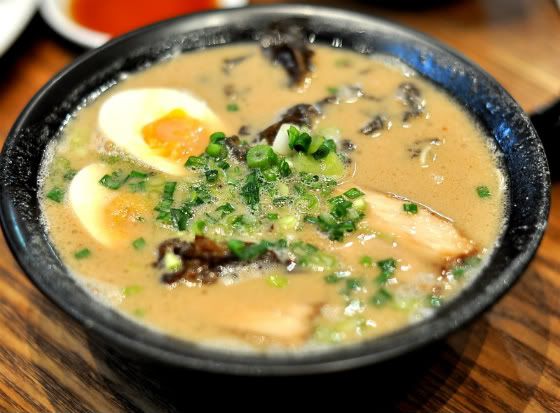 The first time I was there, I ordered a bowl of spicy miso ramen from Menya Iroha. Just for the sake of trying something different! I took two bites of the spicy miso ramen and decided to head out to Ikkousha for the Hakata-style ramen. Although the pork bone broth served by Ikkousha wasn't as good as I would have liked it to be, still I enjoyed the bowl of noodles a whole lot more than the spicy miso ramen.
Maybe I will try something different during my third visit. If I don't chicken out and go for what is familiar to me.
Even when the ramen sold in Singapore is touted to be cooked by Japanese chefs from the best ramen stalls in Japan, I find that they just don't taste half as good as the ramen sold in Japan. No oomph or like how my friend puts it – "no opium"!
And wouldn't it be nice if Ramen Champion had those ticket vending machines which are ubiquitous in Japan instead of the Marche-like cards used to record one's food purchases.
Hakata Ramen: Ikkousha At Ramen Champion