When I was researching what to eat in Fukuoka, one of the things that kept popping up was 'motsunabe', or cow's intestines hotpot, a Fukuoka delicacy. I love eating offal (tripe being at the top of my beef offal list) and this dish was something that I would definitely want to try in Fukuoka. As I was on my own in Fukuoka, the only problem was whether the famous motsunabe restaurants would cater for a one-person portion. I wouldn't be able to eat a standard size hotpot on my own and I didn't want to waste food. I had to look for a place which serves the dish in a small portion.
Every evening, I walked from the Hakata train station or Hotel Nikko (the hotel where I stayed at, which is a stone's throw away from the train station) to Karo No Udon for my daily bowl of udon. Along the way, I would pass by this shop called Uma Uma which had a stand outside the shop, displaying that they serve motsunabe for one person at 1,000 Yen. It was perfect for a solo traveller like me. So I popped into Uma Uma one day for dinner (instead of going to one of the more famous restaurants in the city). The first floor of the shop had space for only a narrow bar counter that sits no more than 10 people, but they have more seating space on the second floor. Besides motsunabe, the eatery serves quite alot of other food, such as ramen, yakisoba, yakitori and mizutaki.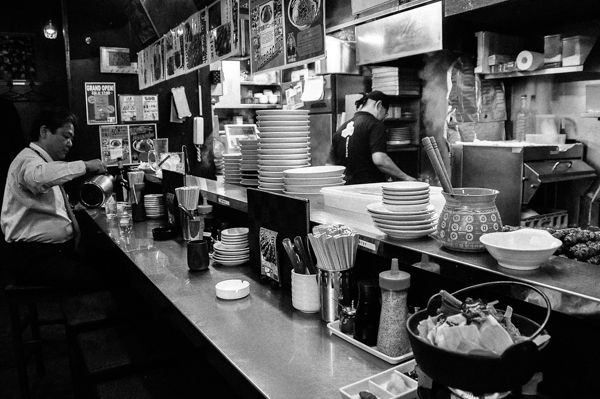 Besides me, there was only one other customer in Uma Uma at 6pm in the evening. I ordered the motsunabe for one, and contemplated the yakitori skewers sitting in front of me. I figured that I could always order some later on if I still had stomach space after eating the motsunabe.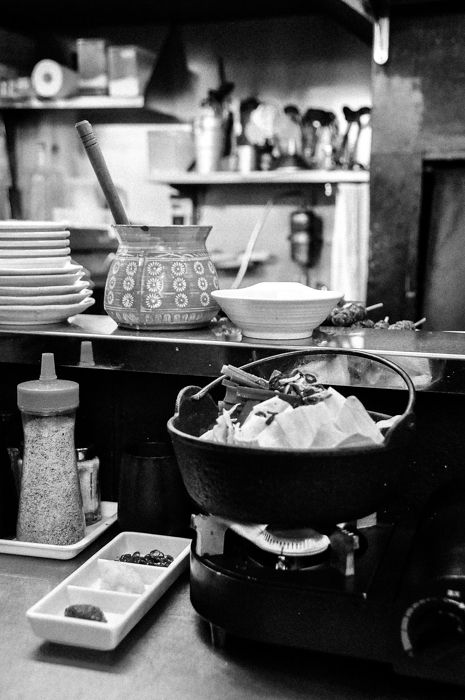 It was not long before the chef set a small hotpot and a platter of dips/sauce, in front of me. I was told to wait patiently for the broth to boil. So I sipped my Asahi and waited.
In the meantime, I started chatting with the chefs in my broken Japanese. I conversed a lot more in (broken) Japanese during this trip, as compared to my previous trip. For some reason, I felt less self-conscious about conversing in Japanese this time. I was less concerned with getting my grammar correct and more focused on getting my meaning across with the few words and phrases that I remember learning in Japanese class. It was a good thing that I rented a pocket wifi on this trip, so I could just whip out my iPhone to look up the online Japanese-English dictionary whenever I needed to find the right word to use in what I wanted to say.
When the chefs heard that I am a Singaporean, they told me that their boss opened a restaurant in Singapore recently. It turns out that they are the 'Uma Uma' of the Uma Uma Ramen shop here in Forum. What a coincidence! We chatted about ramen and their trips to Singapore, before the broth started boiling and they told me to dig in.
The motsunabe came in a lightly-salted chicken broth with grated garlic, cabbage, chives, bean sprouts, a sprinkling of red pepper flakes, with pieces of fatty intestines tucked under the pile of vegetables. Strong flavours guaranteed to mask any offal smell.
I love the garlicky broth and the tender, chewy, fat-lined intestines. YUMMEH.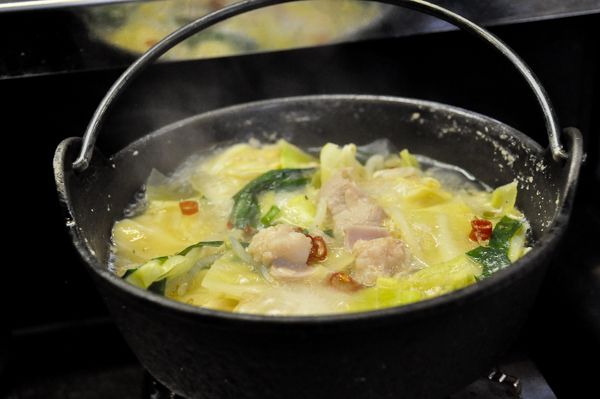 I felt slightly regretful that I could not eat any yakitori skewers after drinking all the broth and a big mug of draft Asahi. I like this place. It is casual, cosy and affordable.
Fukuoka: Motsunabe At Uma Uma