This Starbucks in Dazaifu has the most visually arresting architecture in a Starbucks store that I have ever come across. Nestled between shops selling traditional sweets and handicrafts, you cannot miss it on your way from the train station to the Tenmangu Shrine.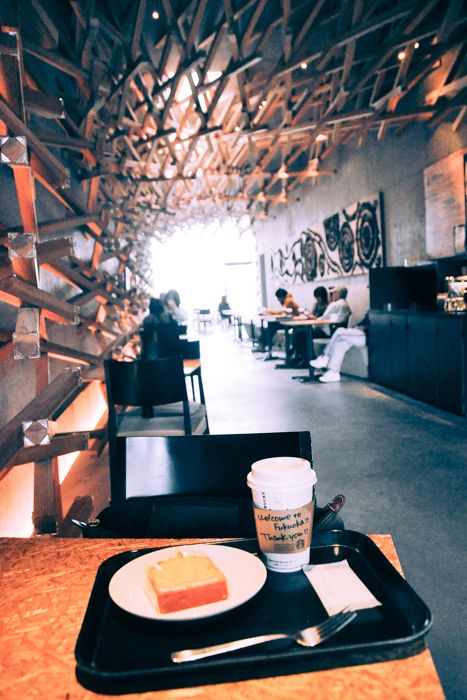 I Googled this store on the Internet and learnt that this iconic store, with 2000 wooden strips criss-crossing one another, was designed by famous Japanese architect, Kengo Kuma, to reflect the area's traditional artistic roots and the modern energy of this world-famous tourist destination.
The service staff in this outlet were friendly and personable. They greeted customers with a huge smile, chatted with me and wrote a simple 'Welcome to Fukuoka' note on my cup when they found out that I was there on vacation. It was a really nice touch.
Also, I swear the Japanese Starbucks add more coffee to their drinks as compared to the Starbucks here. The hot cafe mocha tastes waaaay better than the ones back at home.
After I visited the Tenmangu Shrine, I came back to this Starbucks to indulge in another cup of hot cafe mocha and people-watch. I could hang out in this place ALL DAY LONG.
Fukuoka: A Gorgeous Starbucks At Dazaifu