We like coming to Bali. TBH has been here 6 times and me 4 times. Our last visit together was four years ago in early 2006. We've stayed in several places in Bali and our present favourite is Ubud.
Kuta (icks, downright horrid). Jimbaran Bay, a really pretty spot where we ate grilled seafood on the beach, enjoyed the ocean breeze and watched the sun go down (that was before a bomb landed on the beach).
This visit, we returned to The Chedi Club, Tanah Gajah in Ubud, where we stayed for the first time during our last visit to Bali. I think we both fell in love with this place the moment we set foot onto the estate.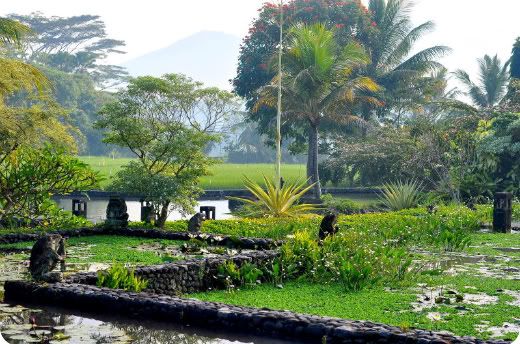 The Chedi Club is a sprawling, some 5-acre, verdant estate that is privately owned by a prominent Indonesian architect. The grounds are beautifully manicured and have a rustic feel to it.
Villas are surrounded by a variety of plants and trees, birds in cages, stone carvings of elephants and frogs, flowing streams and the ubiquitous lotus ponds.
What is most picturesque about the estate is the huge expanse of rice fields encircling it, some owned by the the Chedi Club and others belonging to rice farmers.

Restaurant, Chedi Club
Green rice fields greet us at the restaurant (which is really a long dining hall) where we have our meals, when soaking our feet before a massage (and during yoga), when we put up our feet to read a book in one of the day-beds in the lounge and when we wander around the estate.
It is very quiet, relaxing and restful here. We are more likely to hear a bird than a human, not that we are complaining! Which is what we wake up to every morning – birds chirping or sometimes, geckos clicking away!
And you can't shut these chaps up like you do with an alarm clock.
Other Posts On Bali:
Bali: From Ubud With Love
Bali: What We Ate
Bali: Adorable Creatures We Saw
Bali: Bedugul
Bali: The Padi Field Walk