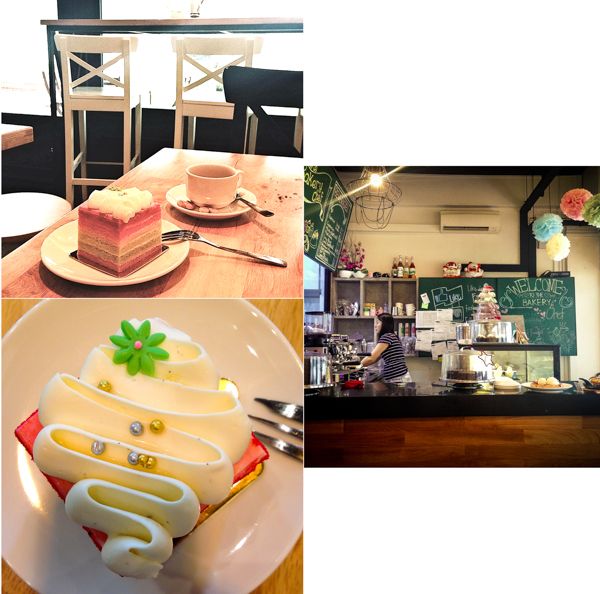 After doing my marketing at Tiong Bahru market one morning last week, I decided to check out the Bakery Chef at Bukit Merah Central (Blk 161 Bukit Merah Central), which is just a short drive away from where I was. I had signed up for two baking classes with Ming Kai, a baker with The Bakery Chef, over the last two weekends and he asked me to visit the bakery whenever I am in the vicinity. A friend who works in that neighbourhood also tells me that their cakes are very good.
The Bakery Chef is located in a row of HDB shophouses next to the Bukit Merah Library, with plenty of parking lots in the open-air carpark behind. A cosy and unpretentious bakery with sit-down space. I love those paper pom-poms hanging from the ceiling. I ordered a slice of Rainbow cake (that's my latest craze even though it has been around for quite a while) and a cup of expresso, and enjoyed them while reading a book with the rain pouring outside.
The bakery's Rainbow cake is slightly different from the version made by Lynn's Cakes & Coffee. The sponge cake layers are moist, infused with a fragrant passionfruit flavour, with each layer separated by a thin layer of pastry cream and topped with a generous amount of mascarpone cream. Scrumptious. I also took away their plain croissants (I like to freeze croissants and have them warmed up in the oven for breakfast) and macarons. They were very good too. I would have to go back with some friends to try more of their cakes and pastries.
I have just checked out their Facebook page and it seems that from time to time, they have dessert buffets and high tea buffets (with two seatings). Interesting.
The Bakery Chef At Bukit Merah Central